Hello, from Necromancer Morphs! A prospective ball python breeder!
I have a background in molecular biology with a specialization in genomics/genetics. I am absolutely fascinated by the vast array of ball python morphs and can't wait to delve into learning more about them and experimenting with different combinations. Perhaps I can help people learn more about genetic inheritance!
The ball python that started my interest in them was my beautiful girl Morrigan Sparkles (Black Pastel/Fire)! I've owned her for five years now and she's put me through every hardship a ball python could throw at you.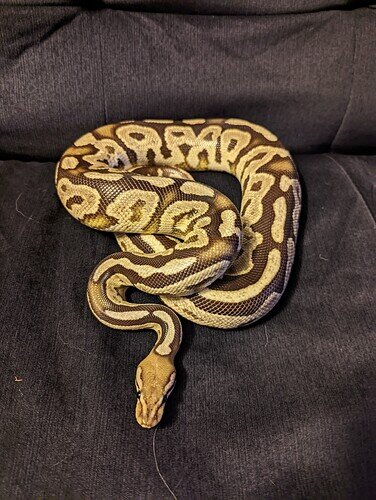 I recently expanded my collection with six new ball pythons (yes, they are currently all in quarantine). The current recessive's in my collection are Hypo, Piebald, Clown, and Desert Ghost. Future breeding projects are still TBD (and a few years off) but there's a lot of potential there!
I can post their full morphs if anyone is interested in helping find cool combos for future breeding projects! (Currently, I'm in love with Black Pewter Desert Ghost.)
Drop your links:
MorphMarket Store: Necromancer Morphs - MorphMarket
Facebook: N/A
Instagram: Necromancer Morphs
Youtube: N/A