Im not as active as I used to be, but I still like to check in with everyone once and awhile! Truth be told, im getting out of leopard geckos. I get to make an exception every once and awhile though, for special cases.
Out of the blue earlier this afternoon, I got a text from one of my local keeper friends asking if i wanted to take in a rescue leopard gecko, since he said im the "gecko person" in my area(I thought that was funny).
after seeing pictures of this guy, i was truly heart broken. The previous owners didn't even KNOW it was a leopard gecko! he has pretty bad MBD and even worse stuck shed, he cant even see out of his eyes! a vet appointment has been made in the meantime, but as a vet student myself, i cant promise they can help.
i got this little guy set up in a quarantine/rehab set up and hoping for the best! we've dubbed him "nemo" because just like nemo, he has a (actually, four) funky fins.
I blured the picture because he IS in rough shape, so i want to protect anyone who doesn't want to see it!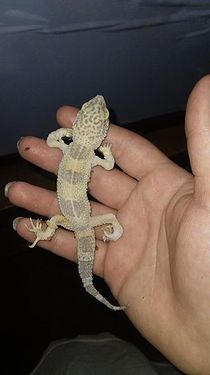 best of luck to our little nemo, hopefully i can update this thread with better news soon!