Thinking of picking this little one up from a local breeder. Opinions? Personally I've never seen one like it.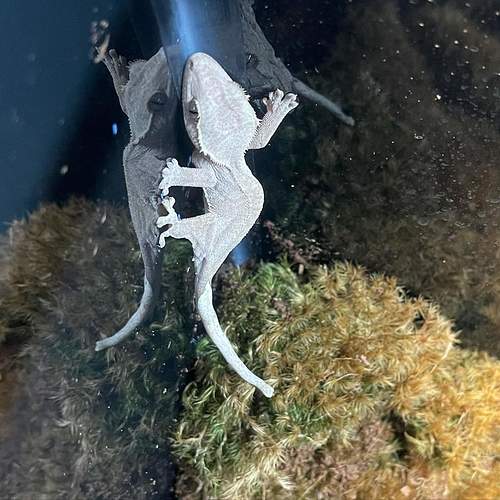 Cute! I had a few like this from an old pairing.
Are you planning on breeding? If so what's lineage? Look at structure, not got a massive head but if you put it to one with a decent head babies have a chance at better structure, what will he/she go with in the future, what do you hope to produce?
This is what I consider when looking at adding any more potential Cresties.
If just a pet then none of that matters obviously

It looks healthy and you can't go wrong getting one. @ghoulishcresties what morph do you think it is?
@ghoulishcresties Would definitely be for a future breeding project. I was thinking with my wifes Charcoal cresty.
Looks like a patternless, anymore images of the little one? And fired up would help

@ghoulishcresties Already left but im really about to go back lol. To see if they will spray to try to fire up lol.
@ghoulishcresties Well I decided to purchase. I got him/her to fired up and I believe it is just a Patternless Buckskin or maybe even turn out to be a patternless orange when it gets older.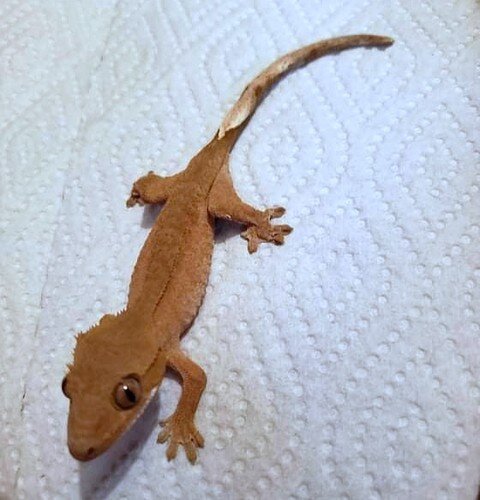 I also grabbed this guy as a bundle deal lol. This one he says is a Harley, Tri-Color, Dalmatian. But I disagree with the Harley and don't believe this counts as a tri-color. Either way I really like this guy.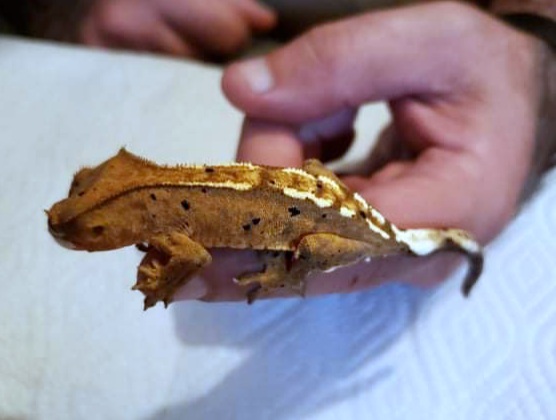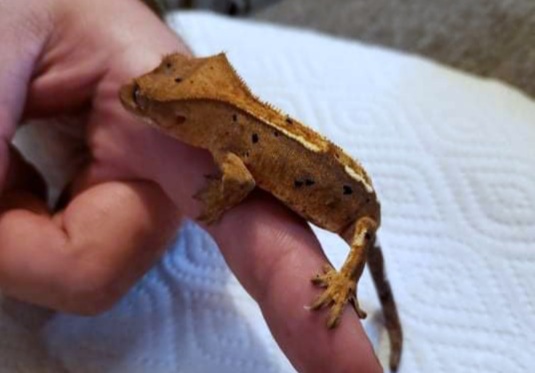 Those two are very nice geckos. I agree that the first is patternless and the second is dalmation. The second is also dashed pinstripe.
Top is a normal patternless, or buckskin if you want too call it that.
i would say other one is a flame pin dash Dalmatian. Best to take outside in natural light to see contrast to be certain. But top looks completely different colour. And bicolours don't have pin or pin dash usually. So would make her a flame.
Hoping you didn't pay too much considering he told you the completely wrong morph… and tricolours aren't cheap! So hope you did get a good deal for them both!
judging by size should be able to tell sex easily now. And I see no bulge…

@ghoulishcresties Honestly $84 for both

I'm not seeing what your calling flamed. Shouldn't there be stripes coming up the sides and or cream coloring on the head?
Looks like the patternless is a female and the dal is a male.
I agree with @ghoulishcresties the First crestie is patternless, bi-colour have slightly different shade along the dorsal. I wouldn't say orange either, it's a normal (beige) patternless.
I'd say second crestie is a dalmatian, pin dash. I wouldn't say flame as flame cresites have little to no colour variation on the laterals but usually different colouring along the dorsal, not just the pin.
They look nice and healthy,
which is important, but worrying how wrong the seller was with morphs. I do hope you got a good deal on the cresties esp as Tri-colours are very saught after and high in price.
If your planning on breeding the cresties, lineage and good head structure are super important. Also you would need to keep them in separate enclosures until the girl has reached at least 40g in weight.
Tha back of the Dalmatian looks a completely different colour to the base. Usually dalmation are all one colour. So yours would be a flame as they have little to no patterning on the side which yours has. But since pin dashed it wouldn't be a bicolour as bi don't usually have any pin or dashing from what I've seen and gotten out.
I have a bicolour dalmation here myself.
Yours wouldn't be that since the pin dash, so would be a flame.
Unless it's your lighting adding more colour on the back?


Found a little flame online. Top is a different colour to base.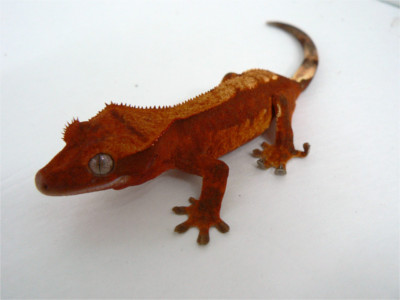 What's ages of them and weights now?


Have you got a looper?
I noticed a slightly lighter colour on the dorsal of the crestie, but thought it was the light, hence why i didn't say flame. If it is lighter on the back (without lighting) then yes I would agree flame.
@ghoulishcresties I will weigh them today. He said 6mth. But I dont know. He has been wrong about everything. LoL
After looking around more now I understand why you say flame.
@ghoulishcresties @foxreptile Now the patternless is confusing me today it is orange today. He seems to have 3 stages super light, tan, orange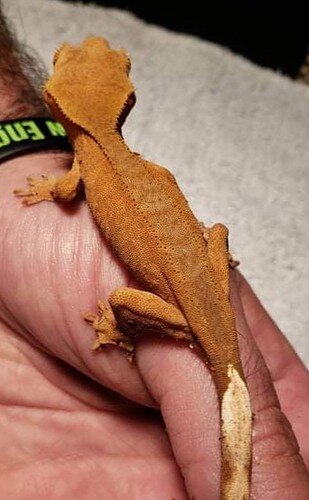 Either way I'm happy with them both. I'm addicted now lol. You guys have been great helping me try learn traits and genetics.
If it makes you feel better, I have a crestie that is still unsure of what colour it is going to be. I think by the time they reach adult hood, the colour should be clearer, or at least I hope lol
Cresties fire up so I'm assuming the light is unfired, tan is semi fired and orange is fired, if so then I believe the cresite is more likely to end up orange but that's not a guarantee.
Aren't they!
The orange may go as as adult. Unless parents were tangerine say. So keep us updated! And due to age I'd say easily sexable too. Any 'buldge'?

Yeah they have a few stages of firing as said.
One of my favourites here is Naruto. Here's him, unfired, starting to fire, semi fired and fired up nearly all the way😊
He's 6 months above. As you can see he's for sure a Male!