It's been a challenging Saturday here. My thoughts are kind of scattered, so apologies in advance for the disorganized post. I'll start with a note that I'm hopeful that Kyle will be all right. He's a 2022, a very sweet little guy.
I got up for some water, stepped into the hall about 1:15 AM and felt something kind of bump my foot. Nothing should've been there. I grabbed my phone, turned on the flashlight and saw Kyle. Then I saw Fuzzer, the cat, nearby. I grabbed a very agitated Kyle off the floor. Turned on the lights, looked and felt him over, didn't initially see anything. Went into the room where he lives (he'd come under the door into the hall) to see his bin on the floor. Still don't know quite how it happened. No cats in that room, door closed. The bin beside Kyle's was out of position, too. Maybe somebody kept pushing their water dish around and got things enough off balance to cause a bin to shift? I don't know. Kyle settled down. I still didn't see blood. I put him in his bin again with his hides, fresh water and fresh bedding. Cleaned up the mess, got my drink and went back to bed.
When I got up at 6:30 I checked on Kyle. This time I saw that he has some small wounds. They're on his distal half/third. None are deep, but there are several. I cleaned him/them with dilute chlorhexidine and dabbed them with silver sulfadiazine cream. Put him in a clean, quarantine bin on paper towels. I know he needs systemic antibiotics for cat wounds. I started calling vets at 8:30. My usual herp vet wasn't available. Neither was the backup person. I called all the emergency vet clinics from east of Pensacola, FL to Hattiesburg, MS to Metairie, LA. Somehow, every exotic vet (few and far between at best) was unavailable. The closest I came to success was when one person thought she might get their herp vet to come meet me at the office with a tech as long as I was willing to pay all the extra fees for that. I said yes, she said she'd try him and call me back. A few minutes later she called to say he was en route to the hospital with his wife, who was in labor. I contacted an online vet service and discovered that since MS doesn't allow online vets to write prescriptions in this state, that attempt failed too.
So I'm hoping and praying that sweet little Kyle doesn't develop a horrible infection before I can get him into a vet on Monday. He's very lucky that things aren't worse, but I wish he wasn't hurt at all. These pics are with flash. Colors are way off but, oh well.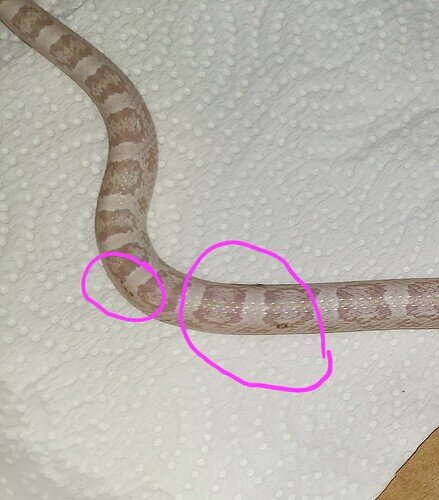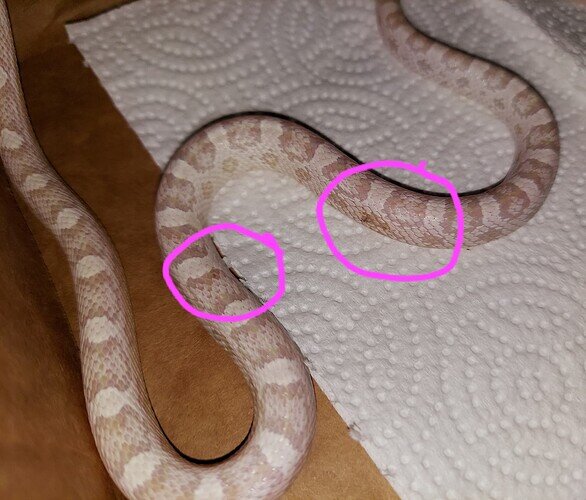 Thanks for any thoughts, prayers, positive vibes for Kyle.