Hey guys and gals, wanted to get your input on something at MorphMarket.
We are generally very free-market, and don't interfere with vendor pricing as long as they are following the rules of our site. Occasionally we find someone trying to list animals at a very low price, only to put an actual value in the description, all to avoid paying for a membership.
However, something I've been looking at recently which happens less frequently is when a vendor bakes in a large shipping and handling fee. I'm referring to the cases where they are not just trying to get around a membership fee.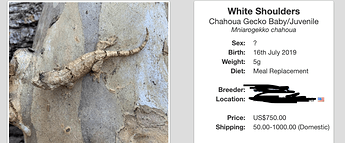 For example, this person lists up to $1000 for domestic shipment of a gecko. That's pretty ridiculous, and maybe an accident.
There are others though as well. We have someone selling retics who also lists shipping up to $1,000. They say that shipping an adult retic can be expensive.
In the middle I have some Canadians shipping ball pythons with prices up to $450. Exchange rate isn't that different, but maybe shipping costs a lot more in Canada? Note that this field is clearly marked "domestic shipping".
I am inclined to leave this alone, and let the buyers just see this and avoid it. But I do need to be able to distinguish this from jokers shifting $500 from their ad into their shipping for a ball python to violate our terms of service, and that's how this got on my radar.
Questions:
What's the max it could cost to ship a retic or other large reptile in the US?
Are [domestic] Canadian shipping fees that much higher?
Any other insights