So, we just rescued a handful of snakes. We have 28 ball pythons and a reticulated python in our collection. We rescued 5 snakes and one of them is a sand boa that the previous owner stated hadn't eaten in a while. When I asked him how long it had been since he ate his answer was "way too long". I am going to guess 6/7 months. The little dude is 26 grams and we are treating him and his rescue friends for mites. We are going Saturday to pick him up a live rat pinky as that is what my IG friends with experience have suggested. Someone has said that if he starts loosing weight and we cannot get him to eat that a pinky push may be needed. He does not seem under weight and is fairly active right now.
I have read that males tend to go on hunger strikes… how long do these strikes typically last?
My son has taken a special liking to the little dude. I am praying we can get him eating. I am also consulting a veterinarian because he has an odd bulge about a half inch behind his head. My plan is to get him eating regularly and free of mites then moving him from his quarantine enclosure to a 10g tank and aspen substrate, as I have read that sand (despite their name) is not the best for them as they can easily become impacted. For now he is in a 6qt tub 92 on the warm side and 84 on the cool side. He has paper towels torn into strips for quarantine bedding so he can still burrow but mites are easily seen and a bowl of water.
I guess I am really looking for any helpful insights that may not be readily on the internet for the proper keeping of these guys. I want to give him his best shot at getting back healthy and happy. They are so very different from balls and retics.
Thank you in advanced for any helpful info!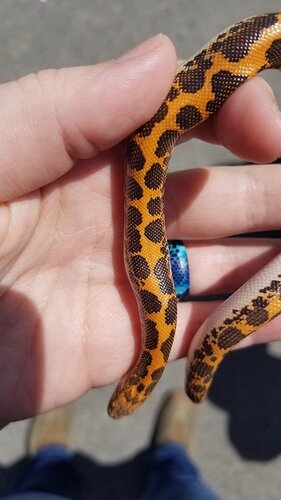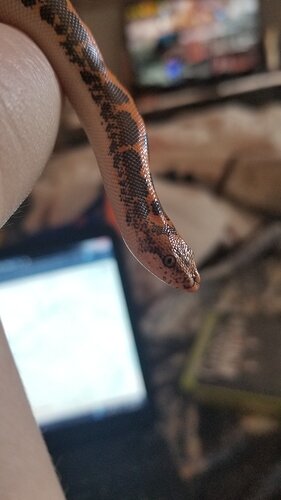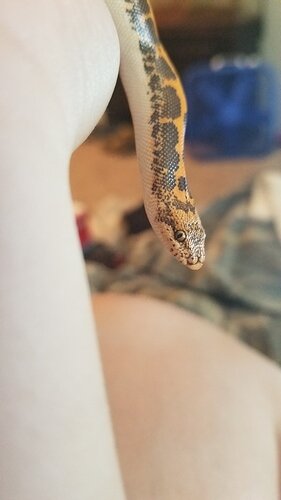 Photos of the peculiar little dude and his odd lump.