what in the world is going on there?
Well… she was sleeping… now just being a weirdo!
You know what? Your right, that must be it!!!
This is how Willow is. Comes off all gentle but when it comes to food all bets are off.

how freakin' cute! He's a mini lion! Is that attitude or perfect timing on taking a photo or both? I'm not familiar with this type of lizard. Is that a collared lizard?
It's a frilled dragon.
Awesome picture! My dad's friend had one when I was a kid, but he was so chill that I never got to see him extend his "frill."
Went to do my morning check on Nova and found her like this. Someone thinks she's a ball python lol. Or maybe a cinnamon roll?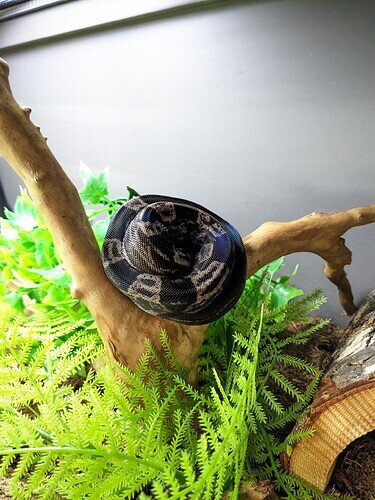 Ha! I see his itty bitty nose!

Found him! Though that one took me longer than usual, he wasn't where I expected him to be.

That's cause you are always looking for bugs Jennifer!

lol!
I found him this time! He's in on our hide and seek game, isn't he? Because he looks like he knows about us


suggesting a weekly FINDING ELMO virtual hide and seek game

There he is! Trying looking left to right instead of right to left, his nose pops up right there.
I love this

so much fun