What was the pairing? Congratulations if she takes.
Exciting update…woke up early to her laying, super excited, ive dreamed of Albino Carpets since the first one was found in Australia (might have dated myself there…lol)…never did i think not only would i have one in my possession but getting to see this in my own home is beyond words, this has been a dream since i was a teenager and now its all reality!
she did her part…now lets see if i can keep her eggs alive for the next two months…wish me luck! This is the first clutch of eggs ive had in over a decade…such an amazing hobby…love it!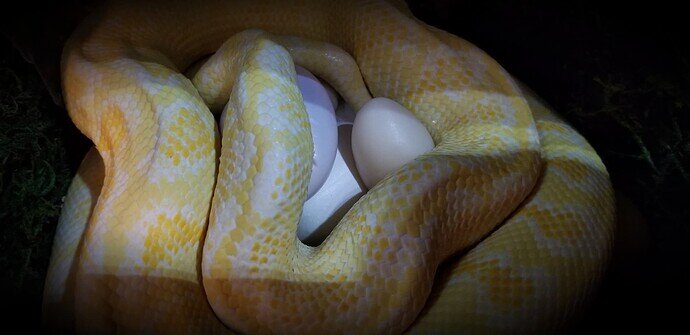 That's awesome! Good luck hatching them, I think you'll do great. Keep us updated when they hatch.
Yay

! I can't wait to see your hatchings! I might get one lol

.
This is truly amazing, congratulations
Congrats! Few things are as exciting as watching baby snakes come out of their eggs

Congratulations, that's so exciting!! Very cute baby!
How exciting. Looking forward to seeing the progress