Hello everyone.
I've been keeping snakes for about 6 years now.
It started with a Ghost Ball python, then my GF picked up an albino boa at the Arlington NARBC, and the addiction started taking hold.
I picked up a rack, and a male BP from @john Lehmann
to complete the BP pare. lol
This was back before MorphMarket was out, and look at it now!
You'll be happy to know @john, Blaze is doing fine, and just fauthered our first clutch!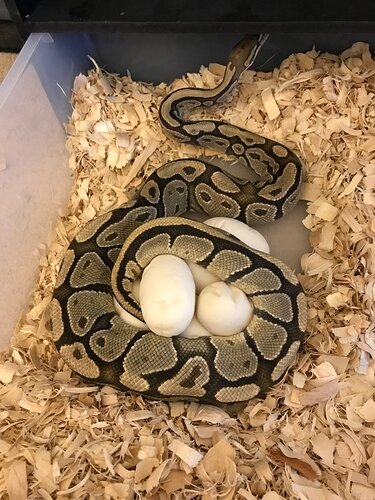 She laid 7 eggs, but we've lost a few.

Incubating eggs isn't as simple as I thought it would be. lol
I'm more into boas my self, my GF likes the BP's.
We are also expecting our first Boa litter soon, so I'm keeping my fingers crossed for that!
Me and my GF are both blind reptile keepers, so I don't try to take as many photos as I probably should to share, or if I do and they look funny… that's why. lol
We do have a website though, it's

Not sure how bad it really looks compared to other sites, so if I come across anyone on the forums that could help with letting me know how to improve the website, visually, that would be cool.



Picture taking, uploading, sizing, it's all greek to me for the most part.
We are wondering if we might be the first people to breed snakes blind?
I think that sums everything up I think.