@trnreptiles perhaps I can send you a male in the next 60 - 90 days!
My first couple clutches started eating really easily. I left the babies overnight with a tiny boiled pinkie. In a very small plastic container. Subsequent clutches have been more problematic, frog scent, or frog reptilinks seem to work though.
That would be great!
Just PM me whenever and we can work out details on that

That is awesome! Congratulations would love to see pictures of the hatchlings!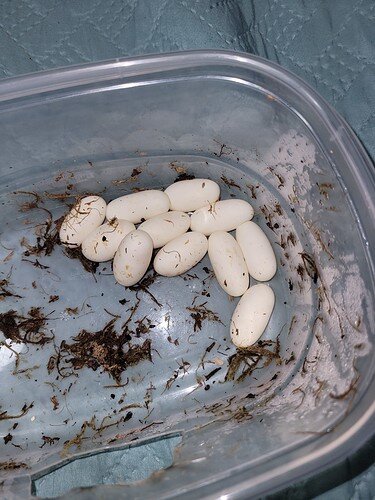 Our female dropped a second clutch of 11 eggs today! That's 19 total - I hope everyone wants a TCH! I'm going to be like Oprah - And you get a tricolor, and you get tricolor!!!
LOL that will be good for us
They are so tiny and cute! Dang it, I really want a tricolor now… Are their personalities similar to westerns?
That's so awesome! Congratulations!
And now she will never stop. We are going to be hip deep in tricolor hogs any day now.
No, I can't say that their personality is similar at all. IMO, tricolors are more placid and would almost prefer to just be left alone. H. nassicus has more personality, a bravado (even if it's all bluff).