What are your thoughts on the swiss chocolate hogs?
I love it and am excited to work it into a number of projects.
I love them! The albino swiss chocolates are out of this world as well. I would love to bring them into some projects I have planned once I start breeding if the price comes down at all
This is my female Swiss Chocolate I imported from the originator of the gene, Jules Toth in Switzerland.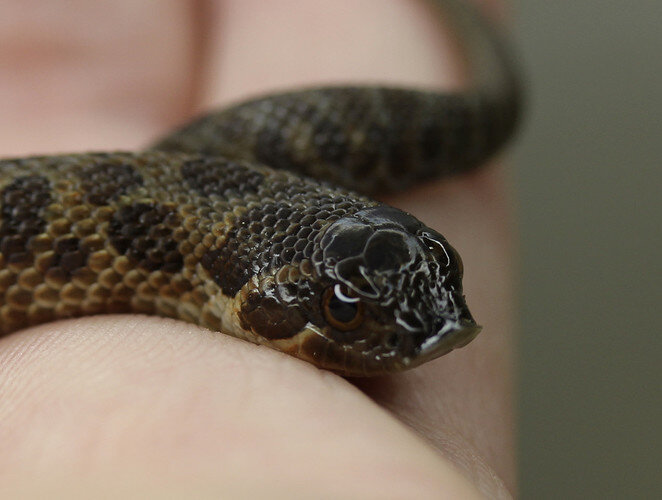 Is Swiss Chocolate just another line of Sable? Or are they both unique dark genes?
I've never seen this morph of hoggie before. So cute

!! Its also making me crave chocolate right now. Kinda makes me want one even though I think I cant have a hoggie due to the dumb bylaw on venomous including mild venomous.
His red Swiss Chocolates are

I'm hoping to pick some up this season, if I don't hold back too much.
It hasn't been proven yet, to my knowledge. Jules paired his Chocolate with a Sable last year I believe. The Chocolate ate the Sable

We don't know for sure yet. Mine looks quite different than the Sables I hatched last year but only breeding can prove it for sure. Either way, I love the very dark heads on Swiss Chocolates.
I'm scared to ask but also extremely curious. What is the cost associated with importing a swiss chocolate? I haven't seen any for sale and as far as I know; Jules Toth had all of them.
As you can imagine it wasn't cheap. Right now he is the only person I know of with any for sale so you should probably inquire with him.
@rberkley Curious your thoughts since you originally asked and started this thread? Are you working with the gene?
I really like them. I have a pair of hets from Jules. I am hoping to eventually do my own breeding project with sable and swiss.
@redridgereptiles it's nice to see someone else working with them. From what I've seen on FB and Instagram there aren't many in the states.
@rberkley Beauties. Yep, I believe there is only a few of us in the US so far.