Congrats those are some very nice retics.
Thank you! I love them so much already!
OMG

they are so cute.
What are their morphs?
The albino is white albino right?
And the bottom is Indo Carmel possibly?
The top one is a white albino sunfire female
And the bottom is a orange glow male
They're breath taking in person, even when they escape while unboxing and hide between a rack and the wall like my orange glow Zeus did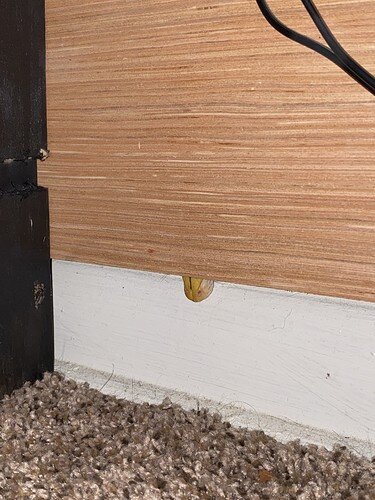 Possibly my favorite animals I own
Wow white sunfires definitely get more oranges as they grow because of the addition of the Sunfire gene.
I love orange glows also because of the higher contrast and darker netting or reticulated pattern, I take that one is het for purple @prestonrabe?
In picture he's hiding n saying…You can't see me human.
Het snow, and yeah they're both stunning and it's crazy the difference in color they have while also both being albino strains, I just love how retics show albinism
He really thought he was hidden, I couldn't get him out for about 3 hours

I just let him do his thing
Oh yes…My girls so damn strong for her size that when she decides to wrap herself around something good luck getting her off.
That's one of the first things I noticed was their strength for their size, crazy compared to my ball pythons
They're awesome…Such curious animals. Its like you can see them thinking and getting excited while exploring.
I find it cool that they actually seem to make eye contact with me and really study me as well
What size were their parents?
Decent sized, the dames were about 12 ft and I believe the side was 7&9 for the sites
You'll notice that their eyes will actually move and watch you without moving their heads, kinda freaky but so darn cool. All of mine do that to me and you can tell they are not your average snake, very intelligent.
Funny you say they are possibly your favorite animals and you've only had them for a handful of days lol, told you they were AWESOME

.
Congrats man, those are nice additions. Be a nice medium size too when they are all grown up. I love the small locality tics, but it's nice to have a tic with some size on them as well.
I've not even had them 24 hours

thank you! and yeah I originally was looking for something smaller but decided I wanted some size but nothing too big, I think the 31% is just enough to keep them a bit smaller. they sure amazing!
Could be. I noticed you said the dam was 12 feet for the White Sunfire. So yours will get to 12 feet maybe larger depending on the age of her mother when she was bred. If your females mom was 4-5yrs old, she could even get to be around 13-14 feet.
I can't wait to see them take down big prey!
@prestonrabe Wow… awesome awesome pair I love them!!! Super Nice for sure!!!