Wow! Whatta cute little dude(dudette?)!! Can we get more details about it?
Oh, and welcome to the family!!
Yes! Shes a year old. Hatched last year March 14th 2022. We have breeding ponds for our Tigers and Larval Tigers. Its been 9 years of having these guys in aquatic stage and morph stage

Adorable! Welcome to the group! Looks like you have put in a lot of hard work with those guys!



Welcome to the forum! And I love the whole Ambystoma genus, I literally have a giant axolotl tattoo on my leg.

I kept them for years, and I wrote my undergrad senior thesis on cannibalism and morphology in axolotls. I decided on the idea after reading a bunch of the existing (at the time, in '02) material about the subject in other Ambystoma (terrestrial) species.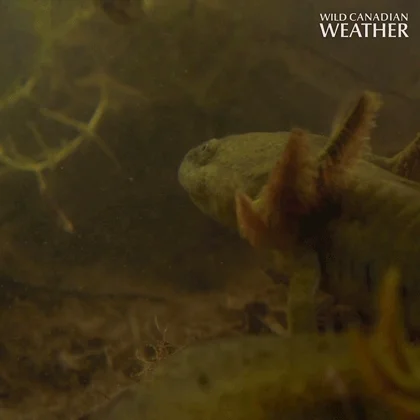 I can't keep Ambystoma species other than axolotls where I live, so I can't keep tiger salamanders, but I love them, they are adorable!
I actually started work on an aquarium (which is sort of special for me, to say I hate fish, aquariums and the like would be a bit extreme, but I'm definitely not as much of a fan as vivariums and such) for newts a few months ago. But! The breeder I was hoping to get some from sold out, and they're actually pretty hard to find. I'm really looking forward to getting this thing going though, I've had a couple species of shrimp and snails in there and it seems like things are going pretty well so far.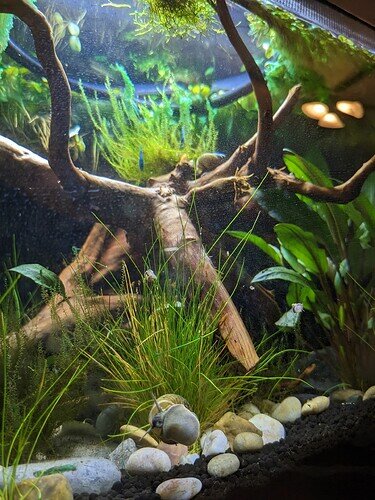 Wow thats so cool! Yes! We keep the neotenic Tigers for breeders. (Since they are sexually matured) also. And they truly are something else! They definitly are the cutest things too haha

i have read and researched their cannabalism! And have seen it! So crazy!
Awww! I really like the setup!!! You did an an awesome job on it

i hope you get to fill it with your newts soon!
Thanks! I'll put up a better layout of it here, and if anyone can point me in the direction of several Cynops cyanurus, that would be great!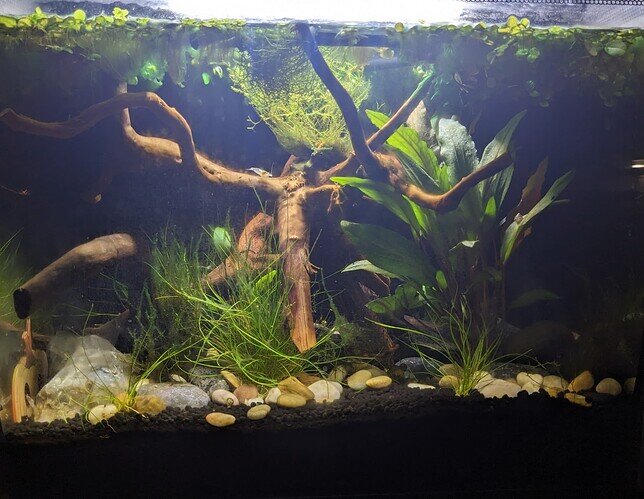 I didn't know that Tigers had a stable/established neotenic form! That's really cool! I wonder if they can hybridize with Axolotls? (Not encouraging or discouraging this, just intellectually curious.)

Yes! You can hybridize those two. I have heard of people pairing these guys for years!