To report a bug please complete the following form in as much detail as possible.
About the bug
Having trouble loading pics into ads. So far in n my experience, only ads appear to be affected. Pics load as expected in community threads and in messages.
Summary of the issue:
This has been happening for at least a couple of weeks. I initially thought it was a short term connectivity issue but it's happened from many locations and repeatedly with 5G. This is the case for new ads and for updating existing ads. I have managed to update a few random pics, often sandwiched between multiple attempts and failures; there no pattern I've noticed. I also tried using the "camera" rather than uploading an image from my files but got the same result. This has become quite a problem.
I'm using the mobile app, with a Samsung Galaxy A71 5G. I usual close the attempt after waiting for a while. The wait has been as long as 30 min, I believe. I have occasionally gotten a "0 code" error message
Expected results:
Updated pics in/for ads.
Actual results:
Pics don't update. I usually get endless "loading." The wait has been as long as roughly 30 minutes before I gave up. Occasionally the whole thing just sort of stops loading and reverts to whatever it was before my attempt, as if I'd never tried.
Links to pages the bug is affecting:
Any of my store ads. Here's one I tried repeatedly this morning. One pic loaded, others wouldn't.
When did you first notice it?:
At least a couple of weeks ago.
Steps to reproduce the problem?:
Try to upload a new image on ad in my store.
Is this happening on the website, app or both?:
I think it happened on the website, but I'm usually using the app.
If its happening on the app, please tell us what version number you have installed:
Version 1.1.2.
Additional notes:
This happens with both the "old version" and "new version" of ad format.
About your device
Device brand:
Samsung
Device model:
Galaxy A71 5G
Browser name:
Duck duck go
Browser version:
Version 5.145.5
Screenshots
Please add as many screenshots as possible that could help explain what you are experiencing.
Here's what usually happens, for extended periods of time.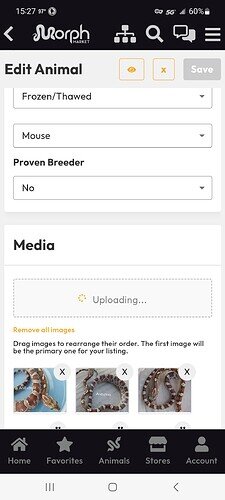 I usually give up before it gets to the error message, but I've gotten this a few times when I've waited long enough.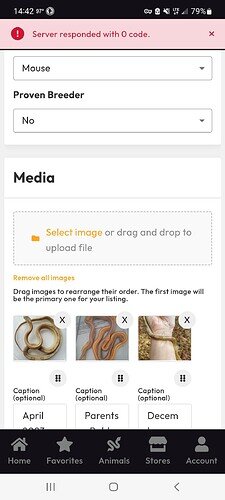 Thanks in advance for your attention and assistance.