Well, I think the Ultramel deserves a thread too…

Super Pastel Ultramel Ghost
Enchi Ultramel
Spotnose Sugar Pastel Ultramel Het Ghost
Spotnose Leopard Ultramel
The contrast of the Spotnose Leopard! Wow. Great colour.
Enchi Ultramel are my absolute faves when it comes to the ultramel

Interesting, I would have thought the jigsaw would have been a little darker
I would have thought so also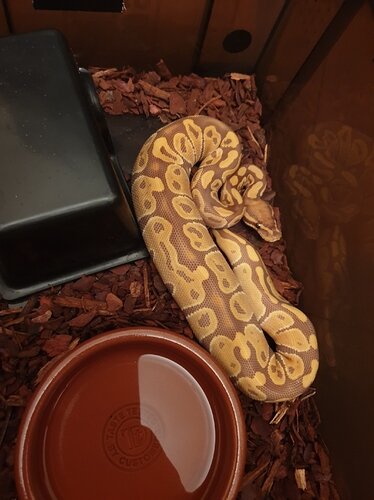 my lil Mel picked up on a I need a new snake urge, just going to grow her up, no plans as yet. She just knocked back 2 large mice 2 days after bringing her home, hope mels have the same appetites as my firebee.
Not sure, sold her I'm afraid. I suspect not but with addition of Pastel I think it would.
I always think, 'I've got the snakes I want', then you all go and throw up amazing pics. Ultramel looks great!
i absolutely love anything pied, clown, and banana. but Ultramel is so beautiful!! i need to consider getting my hands on one
Really love the spotnose leopard!
I'd love to make some ultramel piebalds one day
I used to really want a caramel, but then I found out about the kinking and fertility issues. Then ultramel comes along and saves the day!