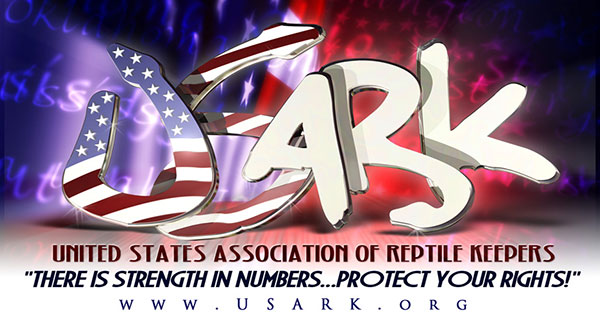 How long has it been? Too long but NARBC is finally back in the Chicago area this weekend!
It has been a while but the show is back and everyone is ready. All of your favorite breeders and vendors will be waiting to see you and the show will be packed with everything you want to see and buy. Vendors and attendees will be there from all over the country.
USARK appreciates all of the support from Bob, Brian, and the NARBC Crew. Their shows and fundraisers are a huge part of what makes USARK possible.
We already have some great auction donations including two box turtle paintings from Gamini and Lisa at Hidden Forest Art Gallery. Jim and Anna Ward from Next-Level Displays LLC and Color Crazed Constrictors have donated a custom set of acrylic show displays featuring the USARK logo. See it at www.facebook.com/UnitedStatesAssociationOfReptileKeepers/photos/a.398227663592526/4044257992322790/. There will be LOTS more so be sure to check out the auction. Thank you to all donors and supporters!
NOTE: VIP badge holders must now purchase admission tickets for the auction! In order to attend the auction, you must purchase tickets at the USARK booth for entry into the auction room. This applies to general attendees, VIP badge holders, and vendors who do not receive tickets. See our booth or www.narbc.com/Schaumburg/auction_narbc_schaumburg.html for details. Tickets are $10.
Please be sure to read the NARBC website for any changes, such as new show ticket rules.
Show Schedule:
Friday: Setup and VIP
Saturday, June 19: 10:00-5:00 (VIP at 7:30 AM)
Auction: 6:00 PM Saturday (preview open ASAP after show)
Sunday, June 20: 11:00-4:00 (VIP at 10:00 AM)
Location:
Schaumburg Convention Center & Hotel
1551 N. Thoreau Drive
Schaumburg, Illinois 60173
Crocodile Conservation
CrocFest is coming! It happens on June 26 at Zoo Tampa (in Tampa, Florida). All proceeds go directly to crocodile conservation. The beneficiary species for this event is the Indian gharial (species changes with each event). It is a great event for a great cause so support it if you can.
Get all details at www.facebook.com/crocfests.
USARK FL Raffle Fundraisers
USARK Florida currently has two raffles. You can check them out at the links below.
Raffle #1 ends on June 30 for Boelen's pythons, enclosures, and more: TapKat (Note that the pythons come with expert care and husbandry assistance (if needed) to ensure proper welfare. The donor will be sure the animals are transitioned smoothly to their new home.)
Raffle #2 ends on December 22 for a Mustang Mach 1 with the Ford Performance Handling Package: TapKat
USARK FL and Florida Business Owners Sue Florida Fish and Wildlife Conservation Commission Over Due Process Violations
Read the announcement and find the filings at USARK FL - USARK FL and Plaintiffs Sue FWC
Today (May 28, 2021), the United States Association of Reptile Keepers, Florida (USARK FL), along with several Florida business owners, filed a lawsuit in state court challenging the adoption of new rules by the Florida Fish and Wildlife Conservation Commission (FWC) that ban the ownership and commercial breeding of 16 reptile species, with extremely narrow and temporary exemptions for only tegus and green iguanas, notwithstanding the success of the prior regulations which had authorized that conduct for more than a decade.
The lawsuit contends that FWC did not follow its own due process procedures when banning the commercial pet trade of these reptiles. Specifically, FWC "failed to afford Plaintiffs [a] requested draw-out proceeding"—an administrative hearing "specifically designed to ensure credible, scientific data supports [FWC's] classification of species; failed to prepare a statement of estimated regulatory costs that complies with [FWC's] own due process procedures; [and] failed to consider and adopt less costly regulatory alternatives that would accomplish [FWC's] objectives" without destroying an entire industry, among other failures.
Currently, the reptile industry in Florida generates approximately $160 million in revenue to the state. These new rules will force hundreds of Florida reptile businesses to either shutter their doors or leave the state, and in some instances require individuals to give up animals they have raised from birth and consider as pets.
Phil Goss, President of the national USARK organization, said, "Common sense walked off a cliff with this latest action by FWC. It has been proven for over a decade that the Conditional Species program, not the Prohibited listing, does in fact 'close the barn door' for species listed as Conditional. However, this Prohibited Species proposal is uncharted territory for species commonly found in trade and has a much greater chance of creating problems, including a new black market and planned releases, rather than stopping them."
"Many of our members came to Florida because of the business-friendly environment the Governor and legislative leaders have cultivated," stated Elizabeth Wisneski, President of USARK FL. "These new rules by the FWC, which eliminated a successful and highly-regulated permit program for these reptiles and implemented an outright ban, will have devastating consequences for small mom-and-pop businesses in our industry, at a time when we are just getting back on our feet."
Two plaintiffs, Michelle Watts and John McHugh, said, "We relocated to Florida just last year and came into compliance with the restrictive FWC regulations. Now we are forced to move again, as we will not surrender or euthanize our animals. These animals are both our lives and our business, and now FWC has forced our family to suffer extreme emotional and financial duress without any attempt to discuss or consider the effects of the new rules on us."
USARK FL Government Affairs Director Eugene Bessette remembers far different times in Florida. "All we asked for was a fair shake and we did not get it. I have owned a reptile business for over 40 years in Florida. FWC historically collaborated with us responsible businesses but those days are gone. Rather than the teamwork that once existed to allow sensible dialogue, we now have a shift to unreasonable rules and an unwillingness to consider those affected. As disappointed as we are, it must be clear that we are not against regulation but we do oppose government overreach We will always offer our expertise to collaborate with FWC to do what is best for Florida and our environment."
Membership T-shirt Update
Thanks for your support! We received specific updates from the shipper on June 15. Membership shirts through 2/21 have been shipped (unless we ran out of your size). Memberships starting on 2/22 are being shipped now, as well as those back-ordered due to size. Our current run of shirts is being printed and then shipped as they become available. We had a delay securing enough shirts as supply is still low due to COVID-related issues but we did get shirts for this large order.
There was a disclaimer when you registered at the top of the page that shirts may take 6-8 weeks to arrive and we realize some members have already waited longer. Our new system will get shirts out much faster after we are done playing catch-up. Our apologies again for the delay but we are working to get all shirts out and to avoid this problem in the future. Have a good day.
ALERT: North Carolina
House Bill 594 (H594) is another "traveling animal act" ban that misleads as to its intention. This bill, titled "Traveling Animal and Public Safety Protection Act," includes an introduction rife with misinformation with the intent to spark emotion from the reader.
H594 prohibits using certain animals (list at the link and even includes tortoises and small monitors) in "traveling animal acts," which will include the educational outreach programs provided by many animal keepers. The punishment is a Class II misdemeanor with a maximum penalty of 60 days in jail and a $1,000 fine.
PLEASE READ THE LAST SENTENCE AGAIN! With all of the problems in our world, we actually have to fight a bill that could land you in jail for 60 days because you took a tortoise to a classroom to talk about reptiles.
Full details at the links below.
Website ALERT : ALERT: North Carolina animal program ban | USARK - United States Association of Reptile Keepers
Facebook ALERT: Redirecting...
Shipping Live Herps Responsibly and Ethically
Animal welfare is both a priority and a special concern when shipping live reptiles and amphibians. When conditions around shipping pose a hazard that cannot be otherwise mitigated, reptiles should not be shipped.
Read our full statement at Shipping Live Herps Responsibly and Ethically | USARK - United States Association of Reptile Keepers.
On Facebook at Redirecting....
Find A Vet
Need a good herp veterinarian? The Association of Reptilian and Amphibian Veterinarians (ARAV) can help. ARAV provides a free Find-A-Vet service at http://arav.site-ym.com/search/custom.asp?id=3661.