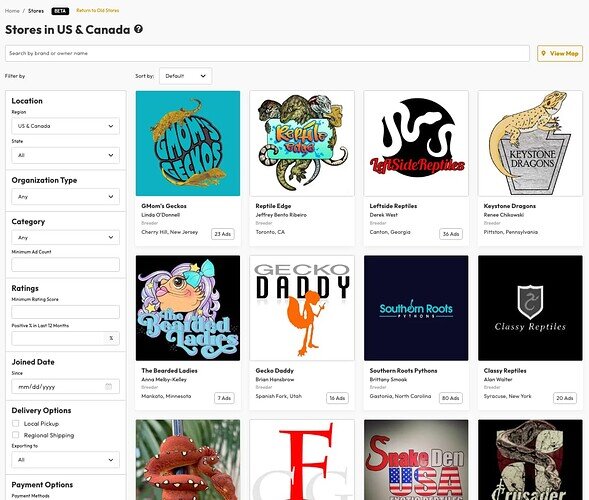 We are excited to reveal the beta version of our new Vendor Directory system. This includes breeders but it will also increasingly contain other kinds of reptile organizations such as rescues, expo promoters, etc.
Like the older Seller Directory, it lets you browse brands by region and category and filter by vendor name and owner name. However the new version adds a lot more control with new filters and sorts:
Organization type
Minimum ad count & sort by ad count
Ratings score and join date
Pickup options
Payment options
Animal diet
USARK Member
More details about the filters and some FAQs about inclusion in the directory and logos be found at:
This is still in "beta", and there are some known bugs but most of those should be resolved soon. Known issues include:
Fails to filter on geckos and a few other categories
Title with animal categories shouldn't be plural
Combining a few of the filters is very slow, like diet food+form or trades
Please try it out and give us specific feedback on what you'd like to see updated or added.
Access it here: Breeders - MorphMarket Worldwide