I have a female super cinny that ate like a retic up until 2 months or so ago when she went off feed (normal this time of year for me). I then used the old trick of introducing a male (the one I'd breed with her just in case they'd lock) to trigger her to start back on feed as this has worked for me countless times without an issue.
At this time she weighed about 2450g and this occurrence was approximately 18 days ago. She did lock with the male and I was forced to leave him in there for a full 12 hours. I thought a bit about it and then said, well we'll see what happens! Then promptly the next day she ate and the week after that…
I went to feed her 3 nights ago and saw her "sunning" her belly aka laying on her back (See pic 1)… I then opened her tub this morning and saw her coiled like she was gonna lay (see pic 2) She also started going into shed 5 days ago… what is going on here? I'm very confused…
Pic 1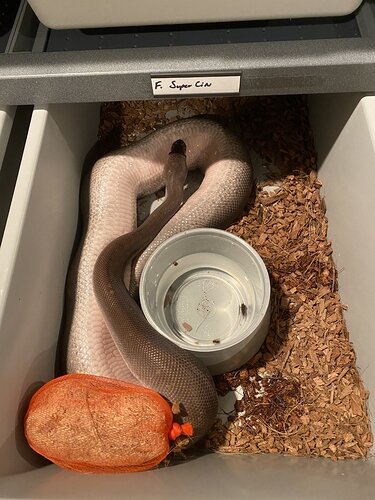 Pic 2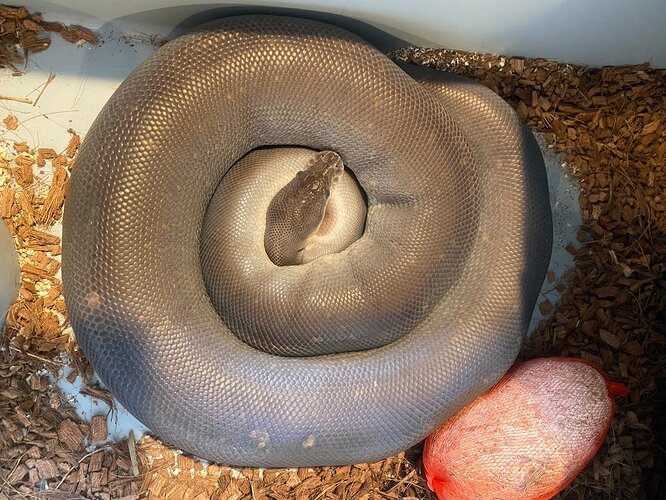 I feel like all of this is moving very fast but I could be wrong… I am a new breeder and am probably making a mistake here but that's why I'm asking! I just wasn't expecting to have anything on its way until much later in the year. This community and YouTube has taught me everything and I'm very thankful for any and all thoughts.
Thanks everyone!