I want to start this off by saying my girl does have a vet appointment on the books. Just have to hope its something that can wait until Tuesday, because that's the earliest my exotic vet can get her in.
A month ago I got a new hognose snake, Freyja, my female arctic conda. She had a rough start with me with eating. She has eaten for me 3 times, the first two times was only a head of a f/t pinkie. The last time I got her to eat the smallest f/t pinkie I could find. She eats weird like she doesn't know how her mouth works almost. She will open just a little bit, bite, and then jerk her head away. She just refused another meal for me yesterday. When she came in she weighed 7grams. At the time of this post I have not weighed her because my scale is charging, but she doesn't appear much larger.
The eating is a cause of concern, but it is not the biggest issue. She has been exhibiting some abnormal behavior lately. She seems to have a difficult time keeping her head right side up. I see her a lot on her back with her belly up moving around. Looks like she is trying to figure out which way is up. She has also started glass surfing a lot, doing the same thing with her head. I am pretty concerned about her. I have heard of this type of behavior in other species of snakes, but never in hogs. Don't know what else to do at this point but get her to the vet and hope for the best. Sometimes she seems fine, curled up in her hide or under a leaf or just scootin around exploring, then sometimes she can't get herself right side up.
I have attached a pic to show what I mean.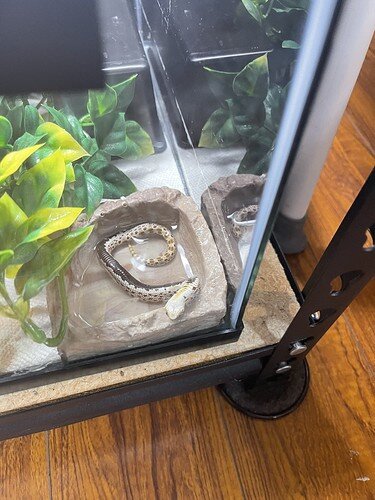 She does this a few times a day, for a few minutes at a time, before she rights herself and goes on about her business.
Does anyone here have any experience with anything like this? Like I said, she is going to the vet on Tuesday. Hopefully they will have some more answers for me. I am worried about the little noodle.