Saw this heartwarming story this morning. The "not a snake person" really rose to the occasion to help this snake.

That's sweet. The picture of it in front of the fireplace is cute!
Isn't is? Such a happy ending for a lost snake.
That is a cool story, glad snow found its rightful owner. I unfortunately decided to read the comments in the story, lol. Some people…

Glad I didn't see the comments. I can only imagine…….

lol!
Yes this story is a keeper! Especially in a world where there is so much evil. Being a domesticated snake, that poor creature had to go into survival mode through it's natural instinct. I am just thankful that the RIGHT PEOPLE found her. Otherwise………
Thank you so much for sharing this heart warming story! Have a blessed day Caryl!

Very touching story and I'm glad the owner has his baby back.
Yeah, I avoided reading the comments. I figured there would be some unfiltered unpleasantness there. I had a nice smile after this story and was happy to stop there.
THAT IS AWESOME!! I prefer saving animals then buying babies and what not. A lot of our snakes here, are rescues or flat out life saves. About 75% of our 123 animals!!!
It's always the same story…
Impulse buyers that then took the animals all the way to death's door. No correct setups, or no feeding right, or husbandry induced RI's.
But some of our proudest saves:
4yr old now white lipps that were once on Death's Door.
Various Carpets that are 100% Pures, that came from some of the greatest breeders, But went to crappy owners.
Our Oreo Calico Sugar Hypo HET CLOWN HET PIED, that was flat as a pancake!! RGI VERIFIED!!!
Banana's that were left at the door of our local pet shop. In the winter last year!!!
And lastly… our 2 petsmart finds this year… stuck sheds, RI and Mites!!! 6 months apart!!!
Wow! Wonderful pictures! All of those beautiful guys look nice and healthy and happy! God bless for giving the animals another chance……




Caron
Thank You!!! Thank You very MUCH!!! We saved some (5) carpets this week as well. All are in tubs tonight in front of heaters and fed. Very small meals. Lastntime they ate was months and months ago!!! Frustrated that was allowed to happen!!!

Frontlined for mites after the meals were in bellys 24hrs.
No water until Friday AM. And another small meal.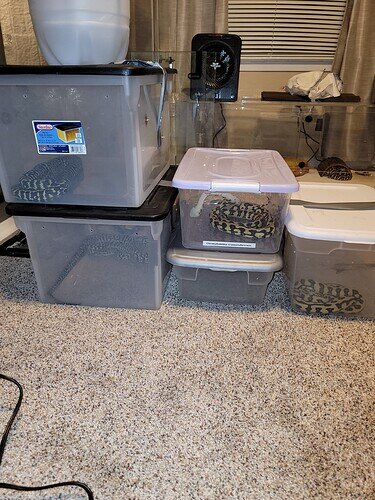 I think it's wonderful that you open your heart and home to these animals in need. I suppose some people consider animals such as these "throw away" pets. I know they suffer physically from neglect. I often wonder if nature steps in and the discomfort is not as harsh as it would be on humans……….
Anyway I am glad there are people like you out there who care!


Caron
How wonderful that they're are people like you in the world to care for creatures in need!




Those comments show how uneducated people are regarding snakes, especially "pythons." Even the Everglades thing. It wasn't pet owners that caused that many to become reproductively viable, it was a storm hitting a breeding facility afaik. Hence other loose populations staying small and isolated thanks to lack of genetic diversity. Not to mention when a python kills a human, it's always blamed on everyone. People keep risking things in their house and do irresponsible stuff all the time, but because it's a snake, it's easy to vilify. None understand captive breeding either.
My rant is really just to emphasize education. It's our responsibility (in my humble opinion) to reach out, educate, get people to understand how herpetoculture helps wild populations, etc and so forth. At least most in the post were positive etc.
Amen! I so agree with you! Education, not ignorance is the key. You can rant all day long as far as I am concerned!