Honestly I don't see it.

Unless I'm missing something very subtle,
I think it's not a scaleless head.

Is there reason to believe that it could be Scaleless?
Did it come from a Scaleless pairing?
I've read that they tend to have a split vent scale, I'm not 100% in how accurate that is though.
No scaleless head that I can see. It would be missing scales and you would see a bald patch.
So, comparing this snake's head to several pictures of my ball pythons, I actually do see an anomaly right here: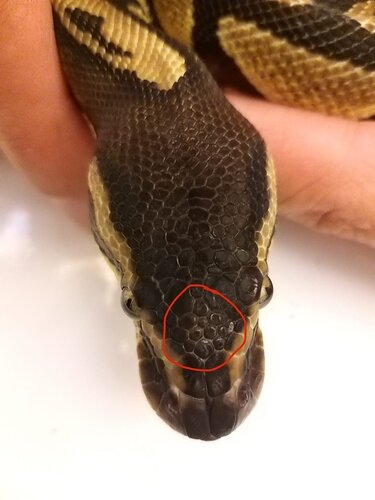 My normal girl Delta for comparison (and yes I did check multiple pictures of my snakes, they all look more similar to Delta's in terms of scale arrangement and size):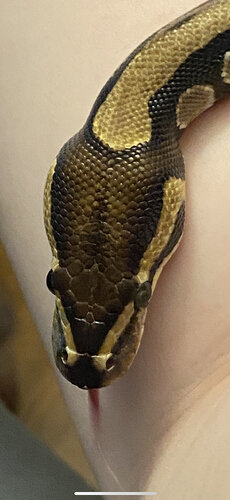 There's a bunch of smaller scales where I would have expected a "bald spot" to appear for a scaleless head. Perhaps this is a super low expression scaleless head?
I did the same comparison with my snakes… And i have your opinion… And of course is not a "perfect" scaleless head… But maybe there is something little strange
Yeah, I knew something seemed off about the scales but couldn't pinpoint it until I did a comparison.
Only way to tell for sure is to breed it out.
Yes of course. Will see the next year