So I am the proud new owner of two Whites Tree Frogs that I purchased off of my sister in law and I want ALL your tips and tricks.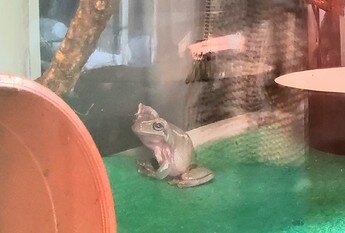 I'm completely unsure of the sex and age to a certain degree. They are at least 4 years old.
I have a Exo Terra Natural Glass Terrarium Medium, Extra Tall 60x45x90cm… All the internals came with them.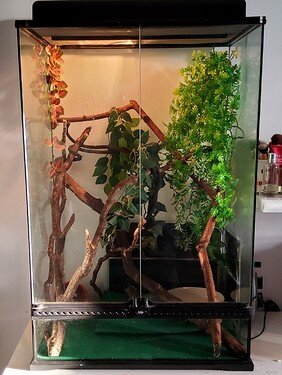 The hood has 3 light fittings that cover the rear portion of the lid.
While my sister in law has done a amazing job at keeping these guys going, would like to upgrade it to a natural enclosure. I want to get rid of the carpet and replace it with a natural set up.
So to ensure these guys thrive, please let me know your dos and don'ts…
Food:
What should I avoid?
What's the best regular feeding item?
Cohabitation:
What's the Minimum/Maximum that would happily live in this sized enclosure?
Should I avoid certain sex ratios?
Heating:
Side heating seems the best, especially with me wanting to add substrate… Am I right in thinking this?
Also heat from the bulbs above.
Substrate:
What's the best way to go?
Plants:
What should I avoid?
What works well?
Water:
What is the best sized water dish to go with?
What tips do you have to stop prey items drowning in there?
Please also share your own set ups for inspiration!