Yes. I know how utterly crazy it sounds for someone worried about a burm growing, but here I am.
If no unit is mentioned, think metric before imperial.
Food weight is according to seller.
I also own a ball, but that came from a shelter and was an adult when adopted.
TLDR: Yearling burm, sitting at 350grams as of 31.05. Is he just a slow grower or am I underfeeding the snake?
Enclosure 180x80x80. Radiant Heat Panel, Daytemp 30, night drop to 26, cool side ~2degrees colder. LED and Exo Terra UVB Bulb
I purchased the small bugger in October at the Houten show, and his paperwork says he was born May 14th 2021, I'll leave the math to you. Upon purchase, he was weighing 164grams and 73cm long.
Initially he got fed 11-20g rats weekly until March, since then he's been getting 20-30g rats every two weeks, there's two left. Next size planned is 30-60g biweekly.
Now ofc I like to look at all the pretty pictures here and on other websites, and one thing I noticed is that apparently Burms easily hit a kilo and meter around their first birthday and I'm just here looking at my Burm being all ??? tiny baby ???
I haven't measured his length in a while, my last entry is in February (82cm). Ofc I told myself I'd post here today and then went ahead and fed him yesterday anyways so I'd rather not annoy him to get his length.
The vet has found he has Balantidia, however according to him it's pretty common in pet reptiles he sees and unless I notice feeding issues or runny poop treating it is possible, but not really reasonable.
Since food goes in at the front and comes out at the back in a proper shape I am not concerned about that just yet. (Despite having underestimated the poop size.)
He's generally an active snake and will cruise around his enclosure (180x80x80) when the lights go out. He still dislikes his hides and will rather bury himself in the cocohusk or just doze in the open below the UV lamp. Curious when handled, never hissed or striked. Can be a Diva when feeding, sometimes he just opens his mouth and wants you to put the head in.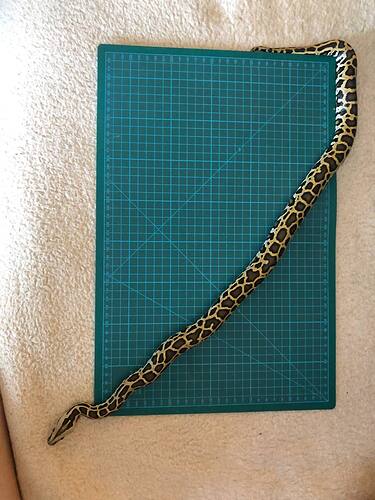 Picture from February, general bodyshape is still pretty much the same. Has definitely gotten longer though.
I only have dumb photos, measuring is the only reason I take full body pics. Can take a current picture if preferred.