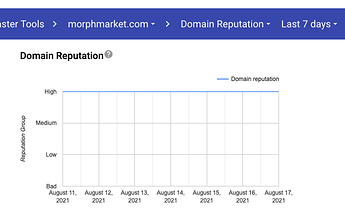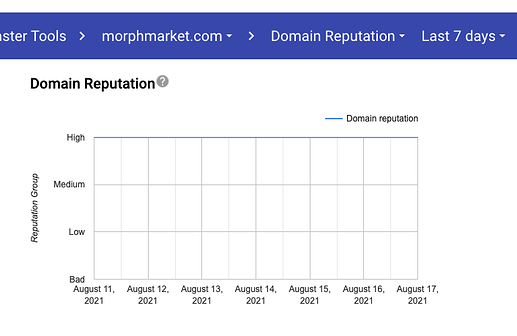 Summary: If Yahoo/AOL is your email service provider, you should check your Spam folder to make sure you aren't missing any recent messages from our site.
We do our best to maintain a high domain reputation which directly correlates to our emails being delivered by mail services. Google Postmaster shows that our domain and IP both have high reputation. Nevertheless, sometimes an email service provider will decide that a message is Spam and move it into that folder to keep it from your view.
In the past few weeks, this has been a particular problem with Yahoo/AOL based on a number of user reports. If you are using Yahoo/AOL for your email, you should check your Spam folder for anything from "MorphMarket ". You can also check the on-site Messenger for anything unseen. If the person you are communicating with is with Yahoo/AOL they might also be having this problem. You can always pull their email address of their User Profile and email them directly. You can also tell the user, when you contact them, that they can see all the messages including your responses in the Messenger. Please label any of these misclassified messages as "not spam" to help retrain Yahoo's algorithms.
While email deliverability is not something we can directly control, we are working with the experts at our email service provider and making changes which will help. Initially most of these are focused on the MorphReport, which is a high-volume newsletter we send daily to thousands. With concern that it could be impacting deliverability of other messages, we have performed a number of technical changes including moving it to its own subdomain and improving our process to retain a highly-engaged subscriber list.
As a reminder, you will always find 100% of your messages in the Messenger. This is why we are continuing to improve it. Unlike email, it's fully under our control. In the future we are planning to add attachment support and native notifications to make it more available and powerful.
We know that reliable communication is of utmost importance to you, and that's why this is a high priority for us. You can count on us to continue to evolve and improve our practices. If you have any questions or feedback, please contact our support team. We love you guys