Hi everybody,
I'm new to this forum, not quite so new to snakes. I've been keeping snakes for a while now, about 6 years. I started with a leucistic male ball python, and eventually added a normal female as well as a Sonoran gopher snake to my collection in the years after that.
I am, however, new to breeding snakes. I am hoping to pair the leucistic male to the female to begin with, and if it works out, potentially expanding my collection to include a few blood pythons and SD retics. I know that the male is ready to breed, he's about 1300 grams and is very active. He regularly patrols all of his 4ft cage, and eats almost every week.
It's the female who I'm wondering about. She's around 4 ½ years old, and yet still weighs only about 1050 grams. She only eats about half the time, and spends almost all day in her hide. She typically eats well for a while, and then goes on fasts. Her record time for not eating was 7 months back in 2021, and she's currently on a 1 month streak, which is around her usual fasting period. I read that breeders usually wait until their female BPs are around 1500 grams to breed, sometimes even more. However, I can't imagine that a 4 ½ year old female wouldn't be able to lay at least a small clutch. Due to eating sporadically, she is in fairly decent body condition, but certainly not as big around or cylindrical as some of the big females that I see. The breeder who I got her from wasn't very good, she came to me underweight and eating live. When she was younger she took frozen-thawed rat pups with enthusiasm (even on the day I brought her home), but not anymore. She's also in a 4ft cage, but there's lots of clutter for her to use. The cage is also only 14" tall, so it isn't like she's in a big open space.
Is it safe to pair her this year? If not, what can I do to help her get back on track with eating more regularly? I've thought about trying ASFs or gerbils, but I haven't yet.
Thanks!
And, because everyone loves photos, here's the female trying to be sneaky…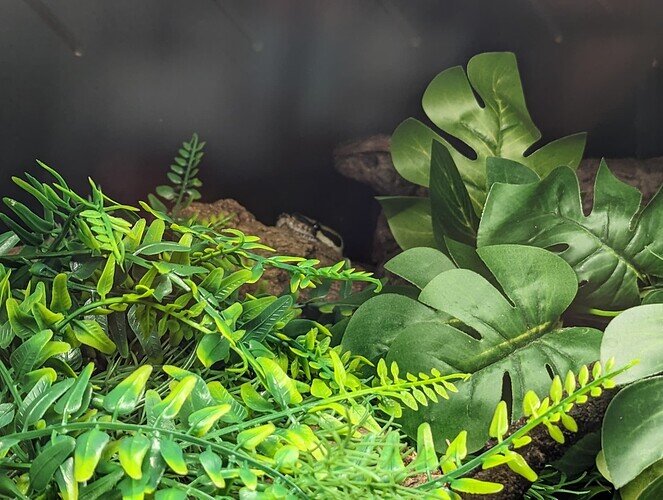 And the male chilling in his plants…