From that picture I would say mayyyyybe Cinnamon because of the "chain" type alien heads…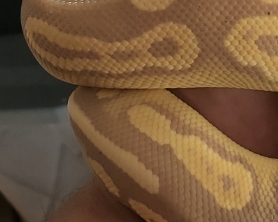 But the colour makes me doubt that.
Here is a Guide in asking for Morph Identification Help that will help us help you.
Man this is going to be a hard one to really know for sure. A lot of genes can stretch and chain the mojave alien heads. Some more side profile pictures could definitely help.
I think there is an additional gene. My first thought would also be cinnamon, but as @saleengrinch said, it can be hard to tell.
I wouldn't say Cinnamon, mostly because you usually see more of a chain alien head appearance than what your Banana has. Plus the color is off as @eaglereptiles mentions.
From your pic, I would guess Black Pastel is the other gene. It also links the alien heads, but not as drastically as Cinnamon does. Color is still off a bit but I'd lean to Black Pastel over Cinnamon for sure.
Yeah Banana Cinnamon Mojave