Looks like it might be a Killer queenspin (Super pastel spider pinstripe butter). Hard to tell without any info on her genetics. Do you have info on her parents?
I'm going to say super pastel lesser spider
I was going to say that as well, but if you look at the pattern on the back (and look at examples of each on MM) it looks like it has pinstripe in it.
It would have more of a stripe on the dorsal. In my experiences. But I could be wrong.
It could be a high expression butter/lesser, but most killer queenbees I have seen have a lot more pattern on the back. No way of knowing for sure without knowing the lineage of the animal though.
Yes hard to say for sure. Looks quite a bit like the ones I've hatched the last few years. But guessing cold and no clutch mates to compare makes it far more difficult imo.
Her parents were Lesser, Pinstripe, Enchi, Pastel X Pastel Spider. I'm debating on what exactly she is.

I would agree with @saleengrinch, I don't see pinstripe. I think it's a Super Pastel Lesser Spider as well, but I think there is another gene at play. The head is very clean and the flaming coming off the belly is pretty yellow for that combination.
That's what's throwing me off. I labeled her as a Enchi, Super Pastel, Spider, Lesser.
I don't think it's carrying enchi. But I will admit I don't work with enchi that much. I'm sticking with my original answer lol!
With that paring you listed, Enchi would be the only other gene at play that I'm questioning. I think tho she's just a very clean Super Pastel Lesser Spider.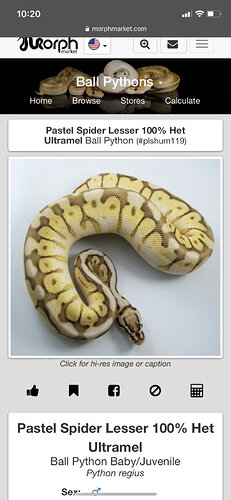 here is a 3 gene. She is so much cleaner than this. I wonder if there is butter somewhere in the mix.

Butter? Butter and lesser are the same gene. I believe yours is super pastel spider butter/lesser.It's a very nice example!
The reduction in pattern/lighter and cleaner color makes me think she might be carrying enchi. That was actually going to be one of my gene guesses before knowing anything.
@lumpy What do you want to know?
No, they aren't exactly the same. They have subtle differences but I guess I'll find out whenever this girl lays a clutch for me. Lol