Hi! I was wondering about what everyone feeds their cresties. What mixes and where you get them, add ons, etc. I have a small 8mo normal, I dont know how many grams she is, but shes on the thinner side.
Here she is, about a week or 2 ago. Her name is Falsies.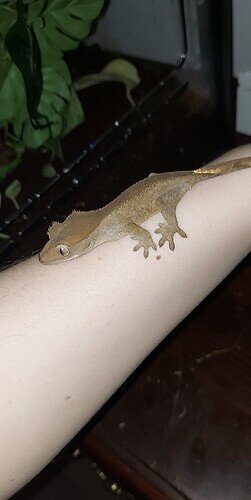 Id say shes only 2 or 3 inches long.
She has very little interest in pangea breeding and growth. She likes crickets but they dont have much nutritional value. I calcium coat them and dip them in the mix but it doesnt seem like enough.
Other baby gecko is doing great! He eats about half a tsp a day. But id like to beef up his food too. He doesnt really like crickets.
Theyre both in I believe 15qt bins for now. I tried a 20gal long converted upright for the normal but she wasnt finding the food.
Thank you!!
Pics of baby boy geck, these are from when I got him, the stuck eyelashes shed are coming off slowly. His name is Glue.