I knew this forum community was a thing for awhile, but apparently never activated my account here. I've been active in online forums since 2011, when I got my second snake, a boa constrictor named Cloud Strife. He's still with me to this day and doing great, even if he looks every bit an old man now.
(This is him, he's a 7' 11+ lb beast of a boy.)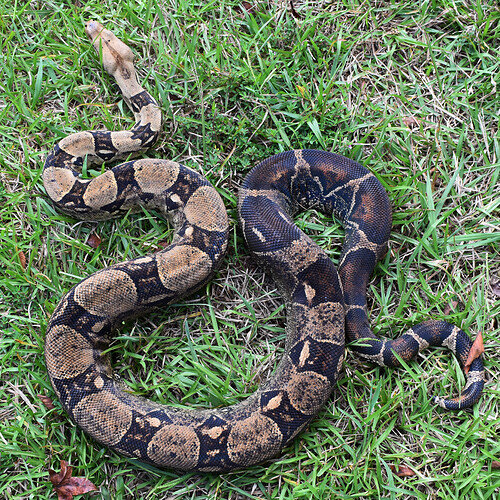 He was definitely the one that sparked my obsession with snakes, even though I had had my bp for ~6 years prior. I unfortunately do not have him anymore, but I am glad I have been able to keep Cloud this whole time.
Since 2011, I have had quite a few snakes ranging from garters, BRBs, to a couple retics. As of now, my focus is mainly on boa constrictors. A truly fascinating, and easy to keep and breed species.

There's just something unique about their build, personalities, and the way they change as they age that just makes them my favorites.
I don't have many interests or hobbies outside of snakes, but I did used to regularly play Commander MtG! Still have the decks laying around, but sadly many of my old Magic buddies dropped out of the hobby, and then I found it hard to make it to the card shops for the FNMs. Edgar Markov and Teysa, Orzhov Scion are my main go to commandars, though I did start an Oloro, Ageless Ascetic deck. Just haven't finished it since no one I know plays anymore.

I have an Arena account, but I just don't have as much fun in 60 card formats. Plus, I'm a terrible deck builder and struggle on the app.


Easier to navigate than Yu-gi-oh!, though! Especially in today's YGO card climate.