Super super stoked, and thankful for a great last few weeks at my job. With 3 Of my het pied girls now over 1,000 grams it's high time I found my male. I just agreed through the Marketplace to purchase a smokin leopard OD pied boy (pos het clown as well

). Reluctantly agreed to part with my little pinstripe girl, she will be shipped when possible to a guy and his son in Wisconsin who are super stoked to get her. So once the dust settles we will be sitting with:
0.1 pastel het pied (my original)

0.1 super pastel pinstripe het pied
0.1 lesser fire het pied
0.1 super pastel yb het ghost
And the new guy 1.0 Leopard OD Pied
Farewell to Cleopatra, enjoy your new home in Cheesehead land!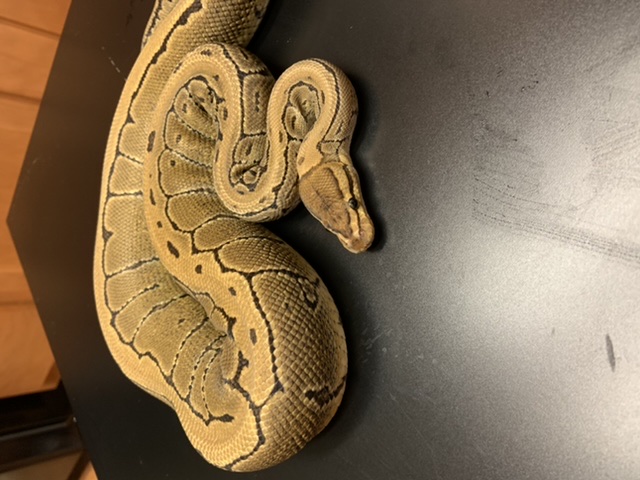 I don't know if I will add any more animals this year I still have a lot to do before 2022 rolls around even though I should have at least 2-3 breeding size animals by then. Will be moving in July, I need to find a house to rent or townhouse or something with room for me to have a dedicated "snake room." I need to get an incubator ready, a baby rack, possibly a larger rack for breeders as well so phew* still a lot of work and some investments to be made before I'm really "going." But making progress.
Going to get this boy and start bulking him up.
Oh, also yesterday was my 1 year anniversary since getting my first BP. Time flies when you're having fun!

Gorgeous snakes! I've enjoyed your posts on here, glad you are part of this community!
Cant wait for your future clutches!
Took forever but I finally got this guy in today and I'm over the moon. Extra 24 hr delay on shipping had me chewing my nails but he arrived safe and sound. This is Ramses. My first future breeder male, he is a Leopard OD Piebald 50% het clown. He is sick!!
Wow he is stunning! Congrats on your new addition and I hope he proves out to be het clown for you!
Thanks man. I'm so stoked. Need to try and find a big adult clown girl by the end of the summer so I can prove him out right away next year. Expecting the market to have some after clutches drop and guys decide to upgrade.
I also can't tell…Ben thought there could be a chance he has blade as well because of that chunkiness of the reduced pattern? It was in the pairing also along with Enchi. I really have no idea. If I blade clown pops out when I go to prove him I'd be just a little ecstatic

is probably need to send this guy some more money cuz I think even if he just proves clown he's probably worth double what I paid at least
Yeah females that just laid are considerably more affordable than a het clown that is ready to breed. The main reason you see people letting go of their breeders is because they have visuals to replace them or hets with more genes. I bought a ready to breed normal het clown for 580 total and bought one that had just laid for 350. Visuals on the other hand are about twice the price of the first one I bought but they are definitely worth it.
Been a bit of a frustrating summer over here. I was excited to get a professional rack and high quality thermostat but ever since moving my collection into it they've almost all gone off feed for most of the summer except here and there. Still haven't gotten my male to take a F/T rat just have him on 2-3 live mice a week. Not fighting him too much on it because I want to keep him growing but the girls also not eating well has been frustrating. 3 in that 1300 gram range which is basically where they were 2-3 months ago, not entirely sure if the smaller/clear tubs are the Solo issue. Everyone seems healthy, just trying to stay patient but it's difficult.
There's probably more I could be tinkering with but I've really just been adjusting the temp a degree here or there and trying to keep everything else consistent. Just an update. Very easy first year in the hobby with no real issues but it has been a bit of a speed bump this summer
I know I may just sound like every one else at this point but patience is key! I learned this more than ever when my entire collection was stolen but now that I am building it back peice by peice I see the importance of it and I've learned to appreciate the little things that come with the hobby. I've never been so happy seeing a new addition eat and then poop the following week. It's not a matter of if but when your collection starts to take off like I know yours will!