I'm just here to learn more about this community and be a resource to those who feed our diets! -Lauren
Well, what a coincidence, I just started researching some of your products this week, particularly for AFS's, the Mazuri® Rodent Breeder 6F. I hear it comes highly recommended for breeding AFS rats.
Hey Lauren!
Welcome to the community!
Feel free to show off your animals, be it scales or fur they wear.
We even have a thread for Non-reptile pets.
Also, make the most of your introduction post here and let people know where your located and how to find your products and price list. This is the only promotional posts that are allowed.
Hi and welcome to our growing community. We love all animals with a passion but we all agree the reptiles are awesome. I hope that you get plugged into here because you will notice that we are a wonderful group of enthusiasts to get to know. Again happy that you are here.

Whereabouts are you located? Happy to help you track down a good dealer.
Seattle WA, and thank you!
Just picked up a Cherry Head Tortoise at a expo a few weeks ago. Heard Mazuri was a great pellet food for them. It was not our initial purchase but it will be our next. Can't wait to check out the product. It will be my first mazuri product.
Edited to include a pic of Little Foot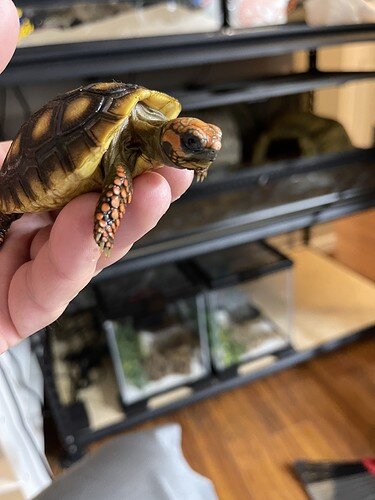 Awww! Try out Small Tortoise LS for your little tort's 1st year of life, than graduate to Tortoise LS

I have a question: does Mazuri ship products to Canada? I have a small rodent breeding operation and would like to know if we have an alternative if our local feed store burns to the ground or something.
Welcome to the community!

Hi Lauren,
i'm in Austin TX and i can't find a dealer for Mazuri 6F here.
I have four (4) Tractor Supply Co stores in my metro area but none will special order it.
Been using Kruse's Mouse & Rat feed for years, I would like to switch over to Mazuri.
Let me know.
Have you tried searching our local Purina dealer network? on Mazuri.com you can search the "Where to Buy" feature and any local Purina farm and feed dealer can special order Mazuri for you.
Isn't Tortoise LS, formula no. 5E5L, for arid/grassland species? I've been looking at keeping some around myself, but a Red Foot tortoise should be eating the regular Mazuri Tortoise diet, formula no. 5M21, per your information on the Mazuri site.
If this is still unanswered I think they sell their products on chewy.com who I believe exports to Canada
We actually recommend Tortoise LS to most tortoise species, but especially arid/grassland because of the lower starch/higher fiber. You can feed either to Red Foots, and some people wtll mix them for variety.