Here is a link so that you can get better pictures because pastel versus normal can sometimes be hard to identify without proper pictures. It does look pastel from the pictures but with the better pictures the people who help with identification might be able to see more than just pastel.
Better pictures will for sure help. But in these pictures looks like a normal. Pastel tends to fade a lot so it's possible it's pastel.
I'd be happy buying this as a monotonous line of pastel.
You know if you ever wanted to have some fun with a little project, I would pair that to a visual Piebald and see what results you get…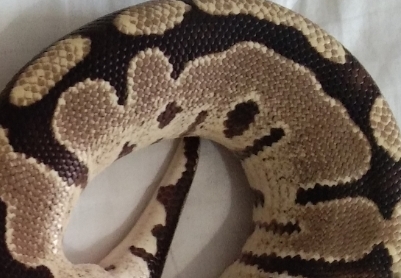 Looks like a single gene fire complex animal.
I can see this more than it being a pastel.
Those few bladed saddles and that head stamp are what I'm going off of. Pretty light in color though. Either fire or sulfur I'm guessing. Disco and mota usually have a dorsal stipe. I've never seen a single gene desert lemon or whatever RDR calls his line of fire so Idk what they might look like.
Looks like my fire. I do not think pastel.