No hate! This is a learning experience for everyone! Squeamish? Don't look at the pictures!
History: I bought this baby from a very reputable breeder at a show on October 3rd. She was one of 6 total that I came home with, one other from the same breeder as her.
As it was my normal feeding day I offered to everyone, including new arrivals (was live so no waste if they chose not to). She and two others are that night. Five days later (Oct. 8) she regurgitated. No big deal, I guess she just wasn't ready I'll offer again in 10 days (normal day was Oct. 17 so a day early). She refused, no biggie. Oct 24, refused again; a little concerned but she looked fine so leave her be.
October 25 as I was checking on everyone before bed like usual, I found her laying on her side with maggots pouring out of her belly button and vent. Immediately put her in a tub of warm water (~100°) to flush them out. Called her breeder to see if he knew anything, he mentioned parasite loaded rodents can cause it but to get her to a vet because he didn't know what to do. Called local reptile vet, left message. Changed water for snake. Swish her in water to flush some more. Change water. Disinfect her tub, water bowl, everything she can get to. Replace with paper towels. Dry snake. Go to bed since vet hadn't called back (mobile so it was a cell number).
Next morning she was still alive, tongue flicking, even got a hiss. See open body cavity better. Know she will die but still want vet to see. Vet calls after I get to work but plan to meet that afternoon.
Vet recommends as many baths a day as possible (I'm doing 3x: morning, after work, before bed), reptile safe antibiotics for 4 days, and spray to kill any maggots that are still inside or could hatch. No food until wound closes. Vet isn't sure of cause. Could be a bite from the rodent that went unnoticed, could be parasite filled prey, could be totally random. BUT!!! Expects a full recovery!!
I gave her the antibiotics myself tonight along with her baths. She is very squirmy, strong, and loud about her disapproval lol. I love when an animal is in an iffy place and is being a little sassy! Means they still have fight!
When it first happened I was terrified because I couldn't find any information! Nothing about them splitting open oozing maggots overnight (well, day). So I decided to post her in case it happens to someone else!!
Warning! Gross photos below!!!
.
.
.
.
.
.
.
.
.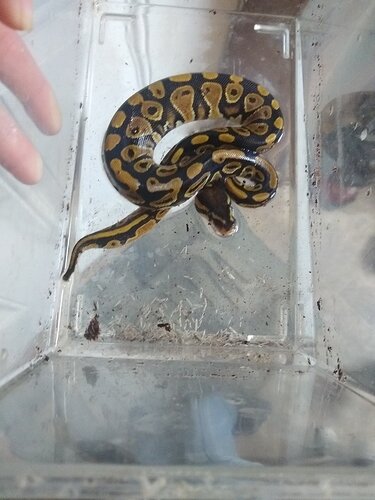 Her and the maggots that came out in the first bath, didn't bother counting.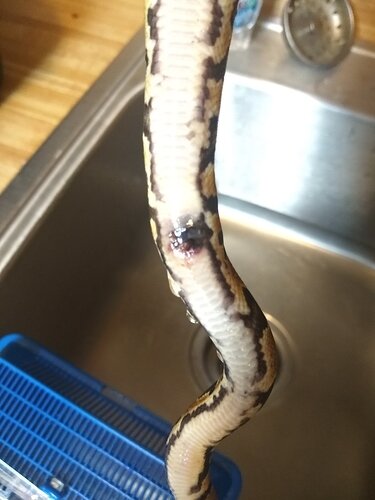 Belly button wound. Big enough to put a standard pencil eraser in without touching skin, I could put my pinky finger tip in touching all sides.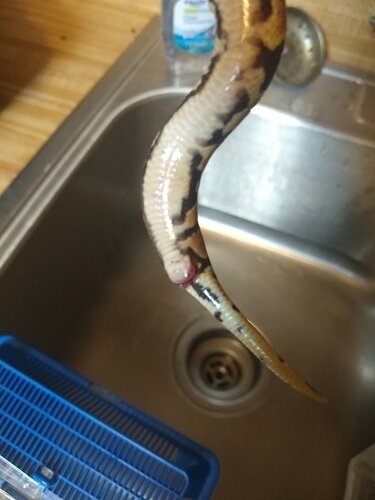 Hard to see but the vent is open as well. Cotton swab size. She did pee on the vet but had a bath shortly after.
When looking at her belly wound I can see two parallel "tendons" going head to tail. They do flex when she moves, she has really good grip all along her body. If you didn't see her belly, just looking from above she looks totally normal (maybe like she just pooped because that area is a hair thinner) and even acts like a totally normal snake! I will try to keep this updated on how she's doing and healing! If I fall behind don't be afraid to say something!