So, I was going to sell my proven breeder female spider to someone. They've paid the entire amount besides shipping. Weather has been cold of course so I wouldn't be able to ship for some time.
They wanted me to increase her feedings to 2 small rats a week since she looked too "lean" to them for her size and I guess they want to breed her this season. She's a late breeder so makes sense.
I said okay, and they paid me like $20 extra to help cover feeding costs for the month.
They're now asking that I bump her up to mediums after feeding 2 weeks in a row because they think the smalls are too small, and this is just throwing up a bunch of red flags in my head.
I'm not really all that comfortable with the idea of "power feeding" a female to put weight on her. Especially since this person seems to only be concerned about her having enough weight to breed.
For reference, I usually feed all of my breeding females small rats weekly, bump them up to 2 smalls a week during breeding season IF they are developing follicles.
I'm seriously considering refunding them and refusing the sale because of this. What do ya'll think?
Here's her and her weight as of several days ago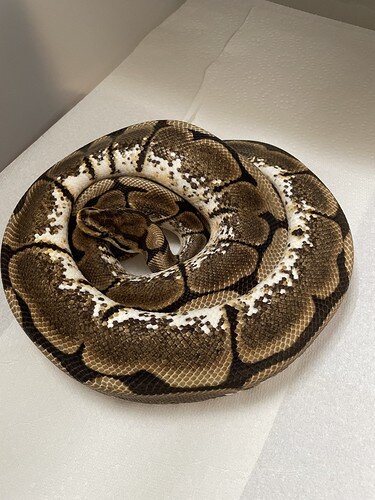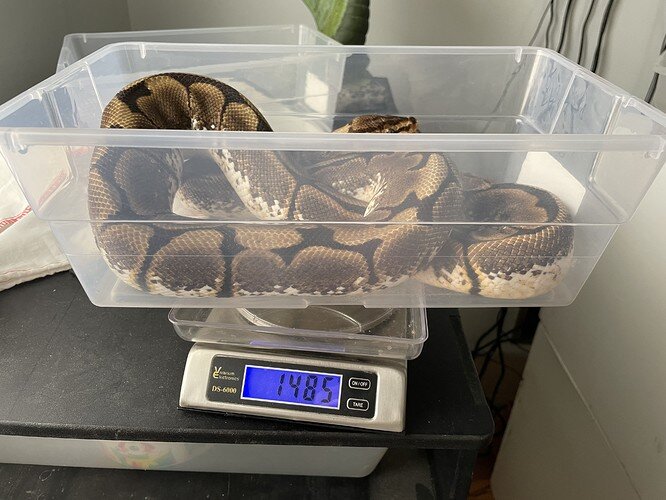 Another pic of her more stretched out