Good Afternoon All,
My first post and very excited to be part of the community!
So, I've taken over my brother's 5 ball pythons, as he has over 30 snakes and finds BPs to be the most finicky eaters of the lot. One of his BPs is gravid, so I've set up an impromptu incubator, as I only had a few days notice, and am eagerly awaiting the eggs. He had planned on just tossing the clutch, as the mum is a common and the father is an albino, which meant he wasn't excited about the babies and didn't have an incubator set up.
I loved incubating all his corn snake eggs back in the day, so I figured it wouldn't be too hard to set up for BPs instead. I've done a good bit of reading, got the incubator set up, got my box in there ready with vermiculite.
So this morning, I do my usual check to see if she's laid the eggs yet, and I find this strange egg. It's quite large - although my hands are quite small - and was covered in a pale brown 'mucus' substance, that has a sticky, almost paste-like consistency. I need to get a stronger flashlight, as the one I have couldn't shine through the egg to see if there were veins. I'm not sure if this is a slug, as most examples of BP slugs I've seen appear much smaller than this.
Any thoughts?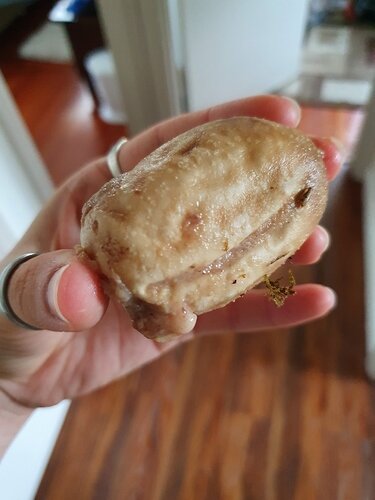 Much appreciated,
Celeste