I wanted to take a minute and open what can sometimes be a sensitive discussion about keeping the kind of numbers of reptiles that some of us do (and many others strive to someday). Where is the line between hobby and hoard?
Here in this community I'm more comfortable being open about the numbers I work with than I am on other platforms that are more visible to those outside the community. The world at large doesn't necessarily have a positive view of someone keeping hundreds of reptiles and rodents at their home. I can understand where some of that concern comes from because the media rarely portrays organized, experienced keepers of any animal it highlights. Puppy mills, cat hoarders, and factory farms are the imagery the public has to draw on when they hear about someone keeping a large number of animals. When it comes to snakes they only know about evil venomous or invasive Burmese. As a community we need to be careful that we're walking the walk and really only keeping animals we can care for well and not creating or contributing to the problems that can put the community in a negative light.
To a degree, I can agree with that crowd, if things aren't kept up and cared for properly. Ironically I have that viewpoint because I live just across the metaphorical street from it. If I didn't have the means I do to maintain, build, or purchase adequate equipment and have help with husbandry, I wouldn't be able to sleep well keeping this many animals. Some people can manage the time out of their life to properly care for triple digit reptiles, but for most people with a family or busy work life, that can quickly become very difficult. It's also very easy to reach a number of animals that you can care for under normal circumstances, but then be completely out of your league when circumstances change. I know from experience. The busier my career gets the more help I NEED to properly maintain my collection.
My eventual goal with my animals and the reason I never made the choice to downsize, is in the (hopefully not too distant) future we plan to put it in a facility that can be opened to the public for education. My wife and I are entrepreneurs and have the drive, and the means to make it happen. At this stage of our life however, we have zero time to devote to that, and our animals are still our escape to our dreams. In order to give them all the best care we can, we make the decision to profit less or break even on ball python breeding, so we don't have to go out of pocket for help to clean and care for everything.
If you're reading this and you've got a large collection, don't be afraid to get help. There is this weird spartan, "I must clean all my own animal poo" culture I see here and there. Honestly even if you can stay on top of it, the educational opportunity it can provide others is well worth it.
When you're maintaining 100+ reptiles, breeding them, and breeding the rodents to feed them, all it takes a little shift in your life and you can no longer enjoy them or possibly even maintain adequate husbandry. They cease to be a hobby, and become a hardship at that point. I caution anyone who's growing their collection to do so slowly and be methodical about it. I purchase a lot of new reptiles. Posting new pick ups all the time is something I worry may encourage people to buy beyond their means to maintain. I don't lightly acquire new reptiles. I hope when people see me making frequent acquisitions that they keep in mind, I have a team of people that work with my collection. The reality of having 110-120 permanent residents is something you can't understand until you've had to maintain it for 3-4-5 years consecutively.
There were times before I opened the collection up and started having interns and employees that I was miserable. I mean not one free second miserable. Work 10-12 hours come home work on snakes and rats until 11pm, wake up at 4:30, do some waters, check the incubator, check the swamp cooler for the rats, and head to work again. As our businesses became more successful, our hobby became a chore. Once we went through a few people and finally arrived at good help, not only are we able to spend so much more time educating, we also spend much less time scooping poop. That gives us the time to really, truly, sit down and enjoy our animals. If at any point you lose that enjoyment for the animals, you've lost your hobby and are just maintaining a hardship.
I see part of the hobby shifting towards keeping less species in better setups and that's a great thing. I hope that as time goes on the overwhelming need to breed every reptile you own diminishes. The hobby putting more of a spotlight on people who aren't breeders would be a really positive change.
Share your thoughts on having a large reptile collection, and let's have a positive discussion about it.
Since I'm just the one who deals with the mean snakes and stands around doing all the talking (kidding) I'll use this post as an opportunity to introduce and thank my team for all their hard work and the boss for not divorcing me over how far out of hand our 3 ball pythons and a BCI ended up all these years later

Cierra and Fay do most of the dirty work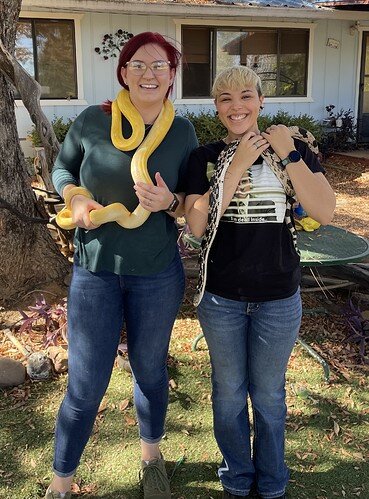 And Jasmine keeps me in line