Last week I finally pulled the trigger on a purchase I've been thinking and talking about for a while: tarantulas! I ordered a 1 3/4" G. pulchripes and a 1/2" T. albopilosus from Fear Not Tarantulas (the T. albopilosus was a freebie), and they arrived today safe and sound. They're so freaking cute! I've never seen tarantula slings in person before, so I wasn't prepared for just how adorable they really are. They were both pretty chill and easy-going when I unboxed them and put them in their enclosures. The T. albopilosus ended up crawling onto my hand, but never freaked out or bolted. Just calmly crawled onto my hand and then walked straight into their little enclosure. The G. pulchripes walked straight from its shipping vial into its enclosure with a couple gentle prods. Very drama-free unboxing, thankfully! The G. pulchripes seems very bold, it's been hanging out in the open and hasn't gone under its hide/starter burrow yet. The T. albopilosus found its hide right away.
I was super stoked to be able to get a G. pulchripes sling that had already put on some size, because I know their growth rate is crazy slow. The free curly hair was the icing on the cake. They're both beautiful and I can't wait to watch them grow into gorgeous adults! No names yet, so I'm open to suggestions. They'll have to be gender-neutral names, since it will be a while before they're old enough to sex.
I wasn't able to get a picture of the tiny little T. albopilosus, but I did manage to snap a photo of the G. pulchripes right after I got it out of its shipping vial.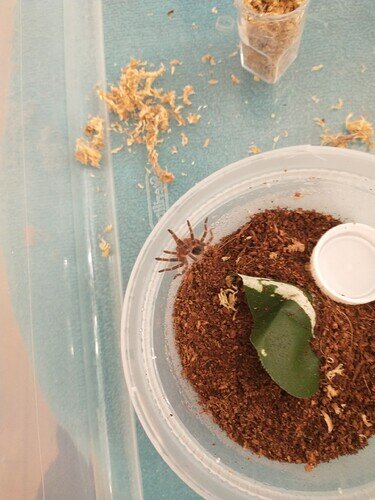 So cute!