Huffman Lesser black pastel sounds nice! And then…why stop there.
Do you know of a website that has all the morphs listed and has detailed information on what each one does when bred into other morphs? I have found some websites, but seem like their slacking on details. Thought you might know of a good one.
Truth in this matter is, if you follow import ball pythons, the track marks that we commonly look for as pied markers, occur even without piebald influence. The odds that a piebald history in a given animal's description would go unnoticed, is unlikely.
No reason not to try to prove it out. But I wouldn't get my hopes up. And it would feel like hitting the lottery if it did prove out.
So yes, they look like pied markers. But it's still a long shot with odds against you.
Breed it to a pied and get double hets at the very least.
Well you can use the MorphMarket calculator that pops up with warning for potential bad pairings.
There is also our encyclopedia where you can see combos of each gene at the bottom of each entry.
And we have a list of Ball Pythons with genetic issues.
Thank you I will check out the Encyclopedia. I think I found the genetic
issues and checked it out already and I use the morph calculator all the time.
It does? I haven't noticed that. Does it work on all platforms?
Honestly to me they don't really look like them. Train Tracks are by the vent the "tracks" near the vent on this gal are not nearly long enough for me to consider them train tracks. This is my opinion though others may disagree.
You know what, I take that back!
So far it only shows up for spider to spider pairing…


It's going on the list!
That is wonderful, I don't think that is a bug right?
Nope not a bug, I just got ahead of myself


This will soon be expanded though for the pairings we know have issues.
Just going to drop this here and whistle as I walk away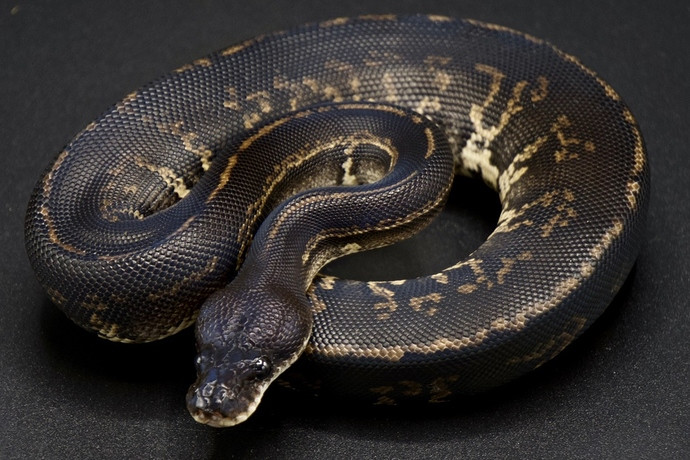 Yeah that is what I thought too. Spider and it doesn't have a lot of information on candy, candino stuff either.
I almost like that more than a pure black snake. I mean just look at it very very reduced pattern and extremely dark chocolate colors. But I do have to say the speckling almost makes the black look more black. But all black snakes are awesome too…I mean I do want to get into IMG in boas…
It's black head cinnamon sable red gene. I've come around to preferring dark with pattern over all black!
Not sure what this is??? I'm not real up on the boa stuff… although been seeing boas I like a lot lately lol. I better quit looking before end up with a pair or a trio lol.
IMG stands for increasing melanistic gene


As the snake it's older and older it gets more and more black. But when you combine other genes like what @mattcookreptiles' beautiful boa shows what IMG can do.
These pics are from a male I picked up, the only one I have with reliable het pied markers in my collection. IDK if it shows up well in the pics but along with the tracks there is yellowing on his underbelly and by the tracks. Hope this helps.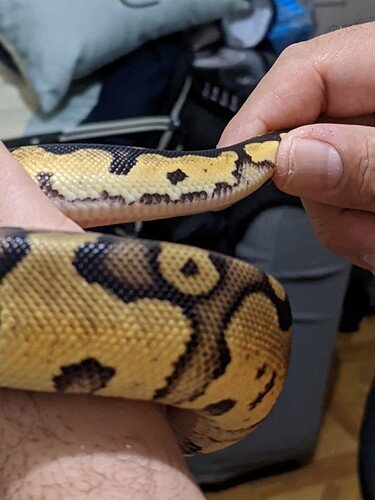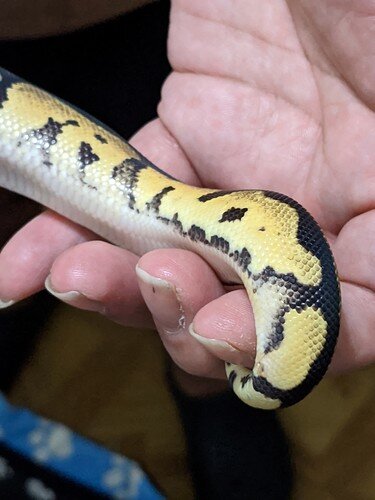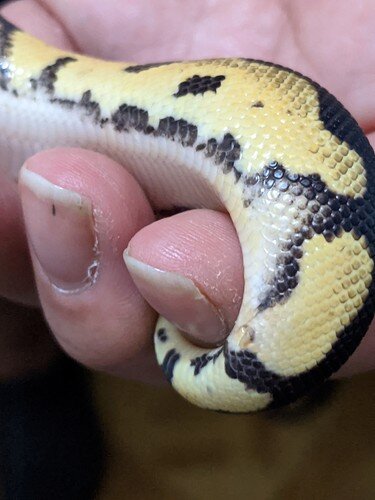 These are not "train tracks" either. Train tracks run all the way to the vent. They won't be broken like this.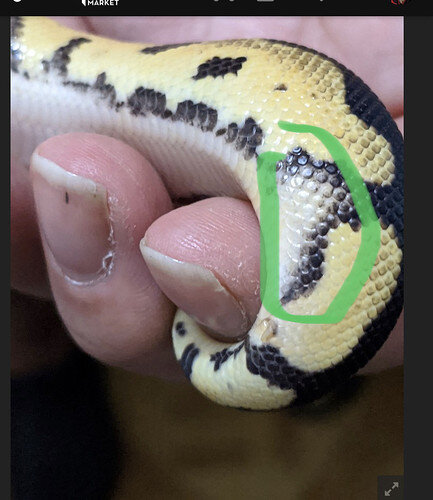 Yeah, I've seen that, I've seen the yellowish tint on the train track belly… also on ringer marks. Yeah I thought those were definitely a stronger indication of pied. Sounds like the basic 1/3 train track marks are quite unreliable… but in the case of 60% het or something like that I'd consider it a positive selling point for sure.
I wish gargoyles stayed black and silver or all blacks stayed black instead of browning out. I have a female gargoyle(cinny/het red) that's now rusty brown and gold as adult. I got very lucky w odds and deformities 7 eggs from female gargoyle(1st clutch) x blk pstl banana, 2 perfect 8 balls, 2 gargoyles(onyx) and a banana gargoyle. I wish I held back some but didn't figuring I'd make more but lost the male to an RI before I could and he turned out to be a female maker to make things worse!