If you have been on here for more than 5 minutes, then you likely know who @t_h_wyman is and what he brings to every corner of the community.
Now its our time to try and give something back:
Hugely appreciated if you can share this link.
Absolutely wonderful if you would consider getting tested!
Julie Napear (Travis' Wife):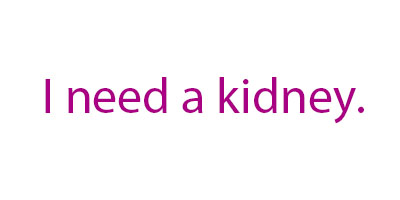 I NEED A KIDNEY.
It can be hard for me to ask for help sometimes, but my life literally depends on it, so there you are. Why is this happening? Simply put, 25 years of type I Diabetes has ravaged my existing kidneys, despite good blood glucose control (seriously… it's always been good but with the latest CGM technology, it's excellent; my a1c is currently 5.1% and I don't think it's ever gone over 7%).
Thankfully, we live in an age when kidney transplantation is possible, but transplants can only take place between two people whose blood and tissue types match. None of the members of my family of origin are eligible to donate because of various health issues (you cannot donate if you have high blood pressure, diabetes, history of kidney issues, etc. This is to ensure no one with an elevated chance of needing their own donor kidney gives one away). My amazing husband Travis Wyman has already been evaluated, and though he's able to donate, we're only a medium eplet match, which raises the risk of rejection (for more info, see https://www.kidneyforlife.org/for…/about-eplet-matching/). We will explore what's known as a "paired donor match," but there can be a wait associated with paired matching. I have a few incredibly generous friends who are also in the process of being tested (I won't mention any names for privacy), but it's all a numbers game, so the more people willing to be tested and donate, the better.
It's not just me who needs help – there are currently over 90,000 on the UNOS list waiting for a kidney. As of last month, I'm now on that list, but I've been told I won't reach the top for another 4-8 years. And that list is for deceased donor kidneys, which are not ideal because living donor kidneys last much longer (an average 20-40 years instead of 10-15). Remember, you only need one kidney even though (almost) everyone was born with two!
Kidney donation is not without risk (no surgery is), but it is extremely low risk for the donor. A few weeks ago, Travis and I spent a day at Georgetown Hospital where we both went through a battery of tests to make sure we're healthy enough for our respective surgeries… MedStar/Georgetown Univ Hospital is our transplant center of choice, both because of their eplet matching program and because they partner with the National Kidney Registry (https://www.kidneyregistry.org/for-donors/). NKR offers a host of benefits for donors, including lost wage reimbursement (if you have to miss work) and remote donation (your kidney will travel, and you get to stay near home). Most donors are hospitalized for only one or two nights, and some companies will give you up to a month of paid time off if you donate an organ or bone marrow! Also, this probably doesn't matter to many youngsters who might be reading this, but for us rapidly aging folks, but you do get thousands of dollars worth of free medical testing. Not gonna lie, I'm pretty happy to have confirmation that my 45-year-old husband is at extremely low risk of a heart attack.
If you're not interested in donating, that's fine – it's a huge ask! But please comment and/or share my post. If you are interested, know that you are very literally willing to be a life saver. Feel free to message me, or you can start the process directly at medstargeorgetown.org/liverkidneydonor. Once you submit the form for basic information, they will send you an email, so check your spam folder or contact me if you don't get anything in a couple of days. If you'd like to try to donate to me, my name is as it's spelled in my profile, and my birthday is 3/7/83.
For more info on the Georgetown U Hopsital MedStar program, this video covers almost everything: