They're heeere…
Pics coming soon. They were not interested in posing upon arrival. Lol
The suspense is killing me Caryl!!!
It was killing me, too. One of these three was purchased back in mid-July. I was planning to purchase the other two before they even hatched. Very pleased with the new arrivals.

I promise, pics to come by Monday!
Wow! I suppose I will wait until Monday for surprise pictures! I'm so excited for you and I am not even sure what you have! Lol!

I love it when people are happy and excited! Life has so many challenges. This makes my heart happy!

Here are my three new babies! Got some quick pics while cleaning their bins and offering their first meals here.
Albion, Halo Strawberry Snow Tessera ph Motley, Sunrise make from Mount Pleasant Herps. My visual Strawberries are named for strawberry cultivars, which "Albion" is. The name also means "white." This boy has got attitude! If he weren't tiny, he'd be terrifying. But he's tiny, so his strikes are just ridiculous.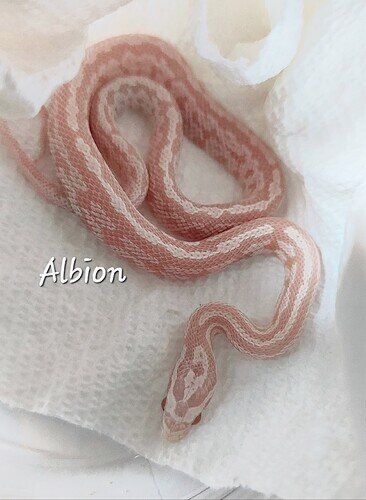 Haldir & Idril, male and female Halo or Green Blotch Snow 50%ph Motley. Idril has nifty aberrant markings. They are from SnakeSmithS. Their sire is Legolas, so I kept the Tolkien theme.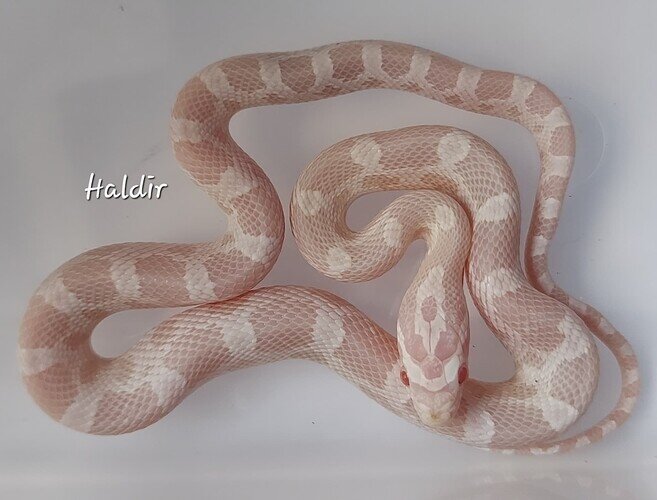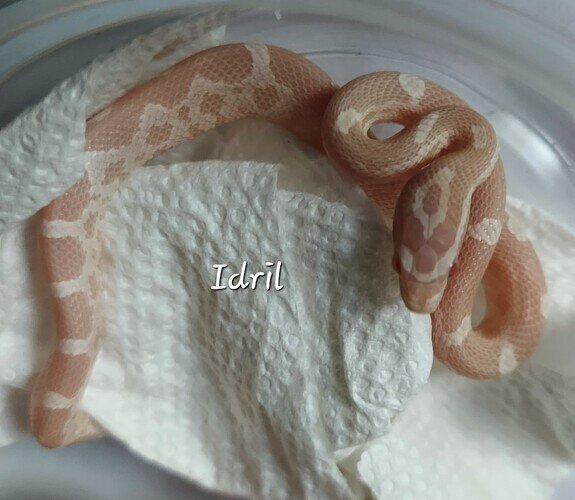 Well I have to say you have blown the roof right off of the building
Those newbies are dreamy! Especially Albion, the little feisty one! No doubt you have plans for all of them? Stay tuned for more pippers on the horizon?

Agree with @caron that Albion is great looking already, going to look even better with age! Great pics👍
Thanks, @caron and @banereptiles . I'm very excited about these babies and their future possibilities. Indeed, I do have plans for them. All three will expand the gene pool for my Halo projects. Albion also fits into my Strawberry projects. There's a picture of his sire (named Draegon) on the Mount Pleasant Herps site. He's truly stunning. Hoping Albion will grow up to look just like daddy.
Check out our new addition! Her name is Juno and she is a high-expression Paradox Snow Kenyan Sand Boa. She weighs over 800g!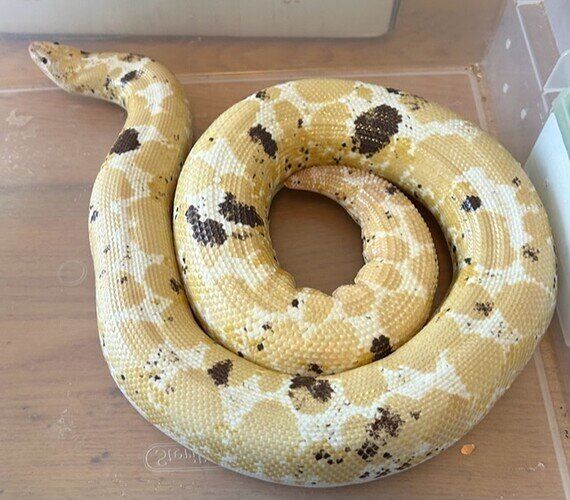 Wow, she's huge! What a cool looking paradox she's got going on. I don't think I've seen any other KSB with such a unique look. I love her! Congratulations on your beautiful girl!
Here is my sweet Anery corn boy Little Dot who had a perfect shed and even pooped in his water bowl for me (I know, gross right?), to keep his house clean! Of course I did have to clean the water bowl out! lol!
@solarserpents Olivia! Ya dun great! Can't wait to get Turnip and Daikon!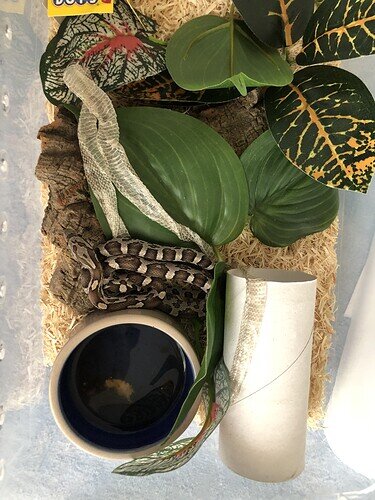 She was a lucky find from another breeder who was reducing his collection. She's apparently a great producer. She's had 4 healthy litters already. We're very excited to see what she can produce for us. Her first pairing will likely be to "Panko," a really nice GX Paint which we produced a few years ago.
Whoa! I have to say that I got a little excited thinking about how stunning those babies are going to be. Like, I'm already looking forward to see photos of their future babies! Lol. I really love KSB. We had an anery whose light grey coloring was so close to a baby blue shade that my daughter's friends commented on how pretty our black and blue snake was.
@caron Little Dot is precious! Looks like Little Dot left a little dot in his water bowl


@gina5678! That's a good one!




After many years of searching, we have finally acquired what is, to us, the "Holy Grail of Sand Boas." That's right sand boa fans, we are the proud new owners of a captive bred adult pair of Eryx jayakari, the Arabian Sand Boas. These tiny sand boas are one of only two known species of egg-laying sand boas, along with the Saharan Sand Boa. They are variable in color. Our show mostly stunning orange colors, especially the female. But what we like best about these little cuties is the eyes. Arabian Sand Boas have eyes that are all the way on top of their heads, which, when combined with their vertical pupils, makes for a uniquely goofy look. This eye placement is an adaption which allows them to see above the substrate without exposing any part of the body other than the eyes. Like other sand boas, this species shows extreme sexual dimorphism when it comes to size. Our pair are both 7 years old (fully grown) and the female just weighed in at 223g, with the male only weighing 35g.
Those eyes definitely make the snake look goofy, almost cartoonish. Definitely a unique looking set of animals!
you better send me one once you start breeding them

I never knew I wanted a sand boa this badly