Please check out our Winter Newsletter to get caught up on everything we've been doing for the past few months and take advantage of all these new features.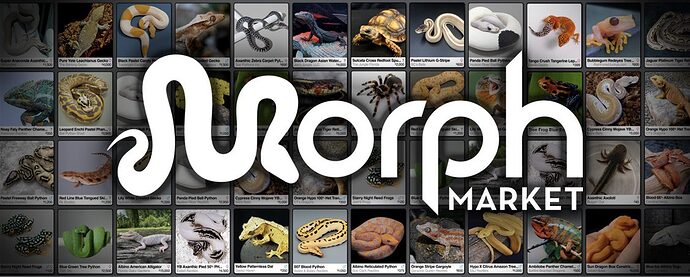 Winter is a time of brumation for most of the world. At MorphMarket , we've been busier than ever.
MorphMarket is not just about buying and selling. Our mission is to build software services that support the entire herp industry . As such, we've launched two big initiatives: Events & NFS . Read on to learn why you want to take advantage of these new features.
Events
MorphMarket Events is a centralized list of industry events such as expos as well as USARK advocacy meetings, society meetings, major fundraisers, and more.
One of the best parts is an interactive vendor list . Attendees can use their phone at expos to answer questions like:
Who is vending here?
Where are they located in this huge room?
Who can sell me a species that I'm looking for?
What do the parents of this animal look like?
And a lot more
Watch this quick demo for a tour of features.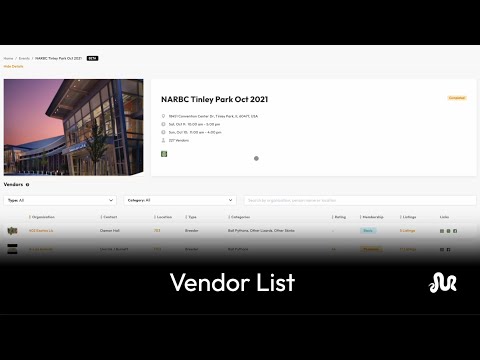 Soon, we will have hundreds of events listed. We will be working with the expos to list the vendors for each event. However, vendors can fine tune their vendor listing to indicate the categories of items they are selling and custom show notes. This will enhance your presence at the event.
If you are co-vending or subleasing a space and aren't on the official vendor list, you can register yourself.
Vendors and Event Organizers, please read our FAQs which explain how you can register.
MorphMarket NFS 1.0
MorphMarket NFS refers to a collection of services to support all animals, even those Not For Sale such as including breeders, holdbacks, and pets.
The list of changes is frankly a bit overwhelming. The best way to understand the changes is to first watch the one minute intro video below followed by the three short tutorial videos . But here are the highlights:
A major upgrade of the old Inventory page with a much more powerful Animal Manager to efficiently Explore, Organize, and Update your data.

Search, Filter, and Sort that works.
Inline and Bulk Editing allows you to change most values without switching pages.
A Customizable Interface so you can hide or re-order columns to your preferences.

Initial Lineage Support

Buyers can learn more about animals by viewing their parents.
Not For Sale Animal can have their own pages.
Breeders can showcase NFS animals in a Gallery on their Store Page.

Data Dashboard to help you stay on top of your animal data.

Analyze summary stats.
Monitor animal status.
And explore the animals behind the numbers.

More control over the animal records:

Three Visibility Settings for ads: Public, Private, and Unlisted.
New Animal States: Not For Sale, Loaned, and Archived.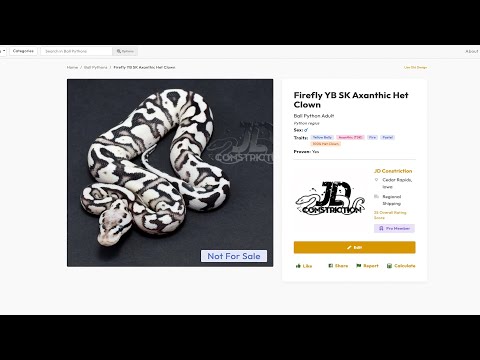 After this video, don't forget to watch the three short tutorial videos about (1) Animal Manager, (2) Lineage, and the (3) Dashboard. This will help you take advantage of all these new capabilities.
We delight in giving our supporting members new features . As we continue building new services, we are able to add more features into the higher plans and move others down into lower plans.
Enhanced Event Listings is a new feature of Basic membership, which includes logo, detailed categories, custom notes, listings*, ratings*, and web links, along with a link to your own MorphMarket Store or Organization Profile. (* These two items are applicable to animal sellers only.)
Many NFS-related features have been added:

Collection Size determines the number of animals that can be actively managed in the system. This ranges from 200 for Basic to Unlimited in Premium.
NFS Animal Pages determines which NFS animals are eligible for their own pages. Basic allows for Adults to be showcased, and Premium allows even Holdback Babies to be showcased.
NFS Gallery indicates how many NFS animals can be displayed on a seller's profile, ranging from 3 for Basic to 12 for Pro. In the future, Collection Pages will allow a larger number of animals to be displayed than can be fit on the store page.
Parentage allows Basic sellers to show the parents of their babies, while Lineage allows Standard sellers to show even the parents of NFS animals.

We've increased the number of Photos allowed for all levels of membership. This ranges from 3 photos at Basic, to 15 photos at Pro.
The ability to set an Away Status has been added to the Basic level.
The ability to use Representative Photos has been added to the Basic level.
The ability to collect Followers is now available for ALL sellers.
Since the initial release of Morphpedia back in October, our team has been hard at work to bring as much information as possible together for the whole community to explore and learn.
We recently hit the 500 Published Articles mark, which is an amazing milestone. At this point 21 categories are represented, and we have covered about 50% of the traits listed in our marketplace.
This wouldn't have been possible without the outstanding amount of help that has been contributed so far by members of our community. We are extremely grateful for their assistance in our mission.
Along the way we have gotten input from breeders from all around the world, to hear their first-hand stories about the history of traits. We have also connected with expert geneticists from multiple fields to help incorporate a whole wealth of information to introduce features such as "Complexes" and "Tags" to help herpers understand how traits interact with one another.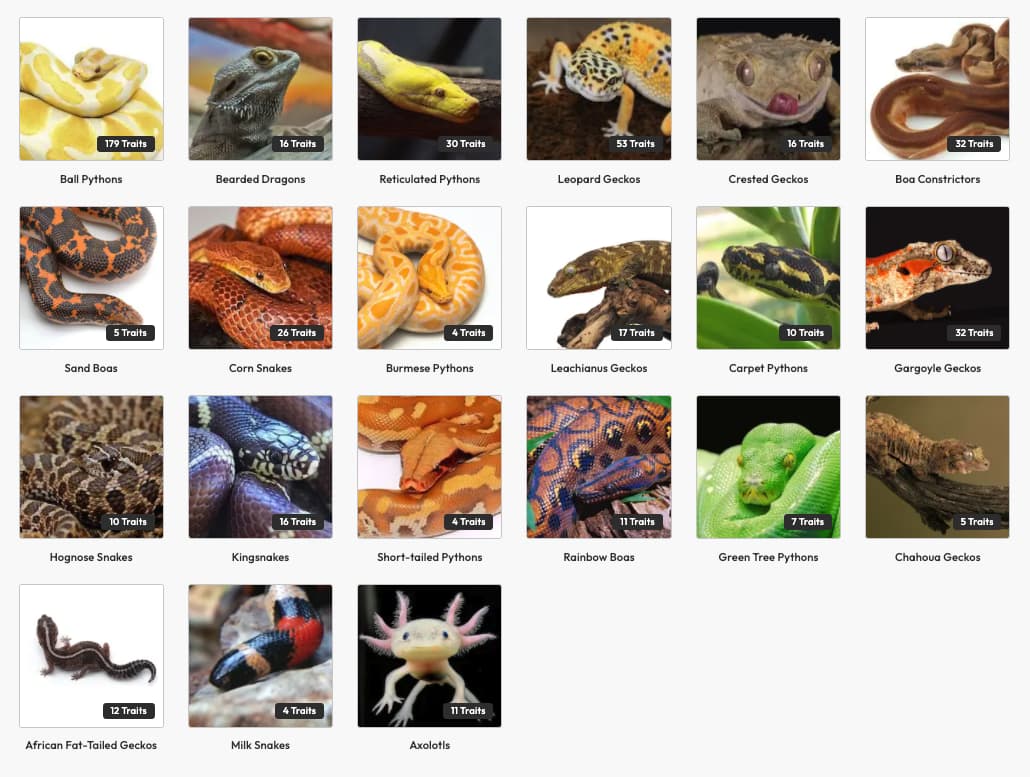 In addition, the marketplace continues to evolve and grow:
New subcategories added to Hognose snakes, including Western and Tricolor
New subcategories added to Sand Boas, including Kenyans
New subcategories added to Skinks and Monitors
Tortoises got an "Other" subcategory
Huge trait update to 11 different categories. More details here.
New Store Design & Controls
Recently, we rolled out a brand new Store Design with a cleaner look, that is easier to navigate.
We've added more functionality for stores as well.
Accepted Payment Methods - You can now list the various types of payment methods you choose to use for your business. Help answer your customer's question before they have to ask!
Profile Visibility Controls - On your Seller Profile at the very bottom, there is a new section called "Visibility". If you uncheck this box and save, search engines won't be able to find your store, and it will require users to login before they can view your store page.
Foreign Currency Conversion - As MorphMarket is an international marketplace, we have improved our currency support. Buyers now see prices in their preferred currency making them easier to understand. If they don't want this behavior, they can change this setting to "No Preference" in their Profile, and it will continue to operate like before. Second, sellers now control the currency for all their ads on the Seller Profile.
Organizational MorphMarket Pages - To support our event system, non-animal-selling organizations such as manufacturers, content creators, industry advocates and so forth can now create MorphMarket profile pages. Check out USARK's profile below.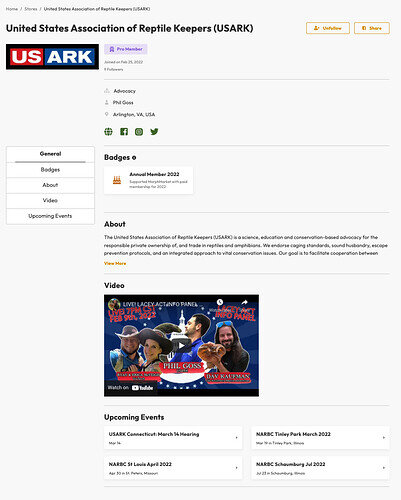 About Our Mission & Team
How have we gotten so much done in the last few months!? Well, our team has grown A LOT. We have a new page showing our Mission & Team. We've added Fey and Alex to our Customer Success team, and many new members to our Development team.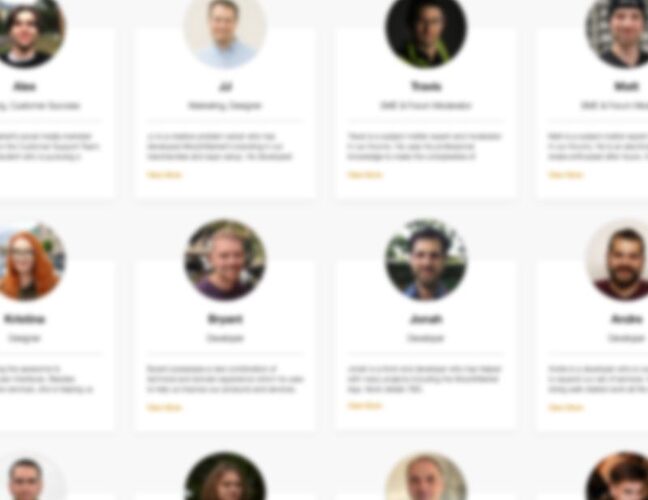 Triple B Interview
Brian Kusko sat down with John during the Tinley NARBC show back in October. This 20 minute interview covers many topics, including:
John's background in reptiles
A brief history of MorphMarket
Memberships
USARK support
Be sure to check out and follow all of Brian's videos.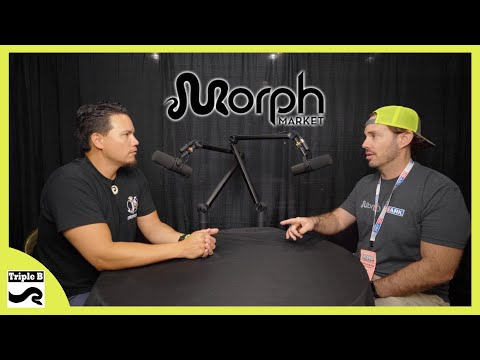 Our cobranded shirt projects continue. Check out our newest collaborations and contact these sellers to grab 'em while they're hot!
Brian Kocher, Bane of my Exotics
Anthony (Louis) Soto, Reptile Kreations
Chris McDougle, Snakenstein Reptiles
Kyle Carlisle, KC Reptiles
Brian Carter, BC's Balls
Scott & Alyssa Leonard, Full Throttle Reptiles
Joshua Parris, Frameshift Reptiles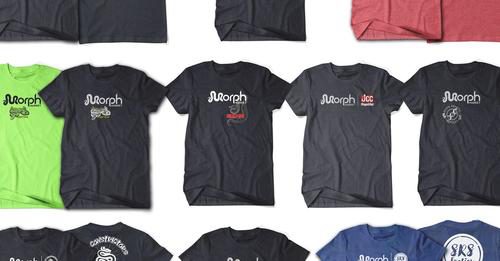 If you are interested in cobranding with us, email merch@morphmarket.com to find out details and check eligibility.
Other Notable Updates
Required Buyer Information - Sending inquiries now requires completing standard user profile information including first & last names, country, postal code, and phone number. This saves sellers time.
Images on Lambda - A geeky topic. We have moved our image processing "further in the cloud" where we can more flexibly generate different sizes and formats.
New Ad Page Design - You may have noticed that we have a new ad page design. We aren't quite done, so users can opt into this version or remain at the older one for now. We still have some image resolution issues and other details to work out.
Guidelines for Safe Purchasing - A comprehensive guide to safe purchases, both on MorphMarket and elsewhere.
User Feedback
We appreciate all the feedback from our users — whether positive or constructive — but here were a few recent comments that made our day:
I really appreciate the time and care that goes into MorphMarket . You try to work with consumers and help improve everything for the better. The site is constantly improving and your hard work shows. Thank you for that! MM is hands down the best online Marketplace for live reptiles. Whether you are a seller or a buyer you will not find a better and more user-friendly platform than this. — Kyle Crill
John runs a business like I do and it's scary. If there's an idea, he's already in the cigarette smoker corral trying to figure out how to implement it. I don't even bring anything up anymore to him because there's no need. I've watched everything in this community in the last quarter century come, stall and pass away. — Chad Petrash
What's Next
Many of these projects have been in the works for months and are nearly completed. Here's what's coming:
Offspring Pages will allow breeders to track their clutches & litters and convert them into ads. Previously animals just had a "clutch id" field, but those ids will now connect all of those animals into groups with parents and other details. Should launch THIS WEEK.
App & Message Notifications straight to your phone for quicker communications and transactions.
Help Docs & Videos for more easily getting answers on how to use our expanding set of services. In fact you may just want to crush that subscribe button on our YouTube page to get timely updates.
Redesigns of all core pages including the index, ad search, and store search.
International support to make it easier to shop across the world and help expand the hobby
On Site Payments that allow you to create or make payments with just a few clicks. Save time coordinating shipping logistics and keep better records.
Conclusion
So what do Expos and Holdbacks have in common? They are both new features of MorphMarket that can increase your brand's presence.
An enthusiast can now see you attending an event, find you at the show, check out the adult holdback parents of an animal on your table, see your ratings, and be confident to purchase. These features unlock many new scenarios like this.
For those of you fortunate enough to make it, please come by and see us at Tinley Park NARBC next weekend. We will have live demos and posters of these advances. We'll also be auctioning off a one month premium advertisement on our home page to raise money to support the industry.
To all our users, please let us know what you think of these new features and how we can serve you better!
John & Team