Wow!! Nice bearded. I bet that room is packed and stack huh? Love all the variety of tubs and tanks

@beast-blade-wolf_987 I currently have 2 soccotra island blue baboons (m. Balfouri) who I never see

0.1 chaco golden knee (Grammostola pulchripes)
And one Venezuelan sun tiger (P. Irminia) who I haven't seen in about 2 months except the tips of her feet
You have some amazing stuff in your collection.

I always found T's very fascinating, but from afar. One fear i could not quite get over. We had a group of brazilian blacks (Grammostola pulchra) and good size female mexican red knee for awhile. I always loved to watch them make their little web and clean out their little hidey hole. Once the mexican red knee got out and was on the floor when i got up to go to work at 5 am, we made the decision to give them to a friend.
@wreckroomsnakes sounds like Charlotte just wanted some adventure…or mischief lol.
@wreckoomsnakes I'm definitely not afraid of them but I certainly have a healthy caution about them lol. I dont hold my T's as I dont see the point. It's only stressful for both of us. Besides, with high blood pressure and congestive heart failure I doubt it's a good idea to risk getting bit by one of the old world species.
Fun story, last year I made the mistake of forgetting to wear gloves when changing out enclosures on a grammastola pulchripes cage. I had crumbled up an old molt into the substrate not thinking about the urticating hairs and it took weeks for my hand to stop itching and the bumps to go away.
Those are both really creative ideas! I usually use a mix of coco fiber mats, expanding foam, cork bark, seed and nut pods, branches, dirt and hopefully live plants to create my builds. I'm planning to do some for my snakes soon but for now I only have bioactive arboreal gecko tanks done this way.
Please ignore the adorable green tree python I didn't mean to select him and post that picture but I'm new to this forum and don't know what the heck I'm doing lmao

That's okay you just paid the snake tax

Just thought I'd share this real quick. Woke up to find the chaco about to molt…

I know this is far from "natural" and some may not like it, but I'll share anyway. For the record, the black lights are off 95% of the time. He doesn't mind them anyway, I've had him feed with them on.
I've got several different custom backgrounds that I had made when I thought of this. One featuring the Houston Texans, another with the Houston Rockets and then others that have more of a jungle theme. Gotta get some pictures next time I change it. It's all still a work in progress, I plan on adding more racks and better lighting outside the tank.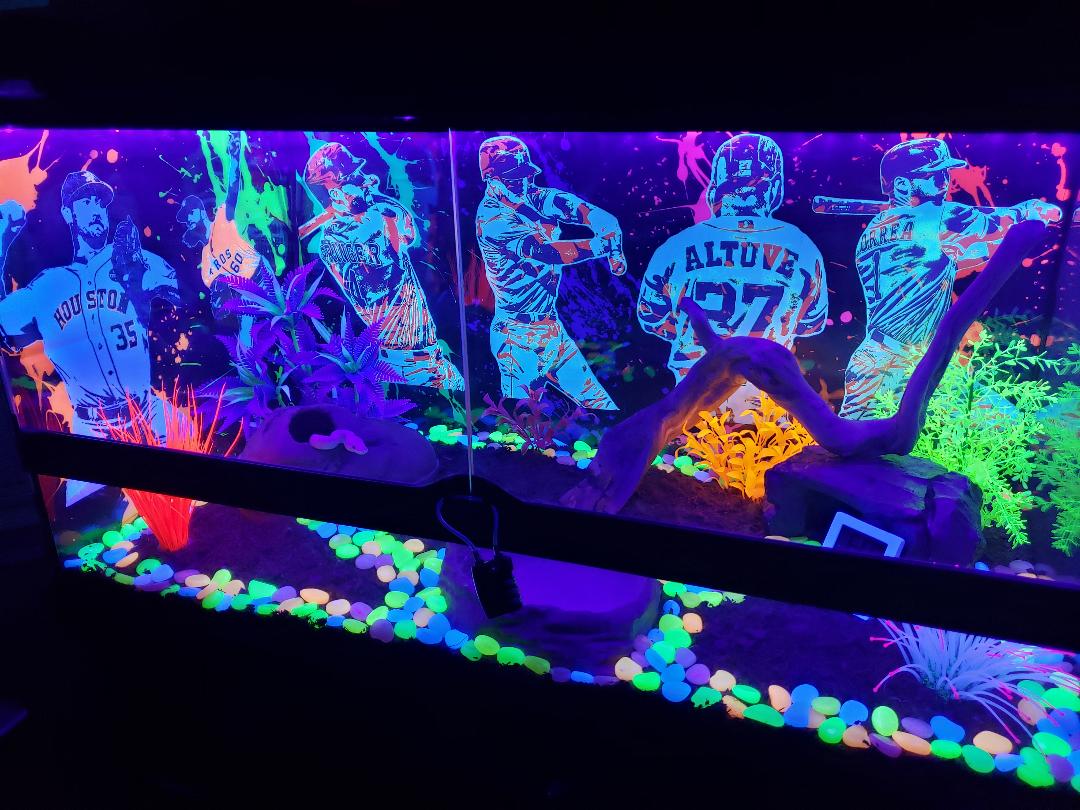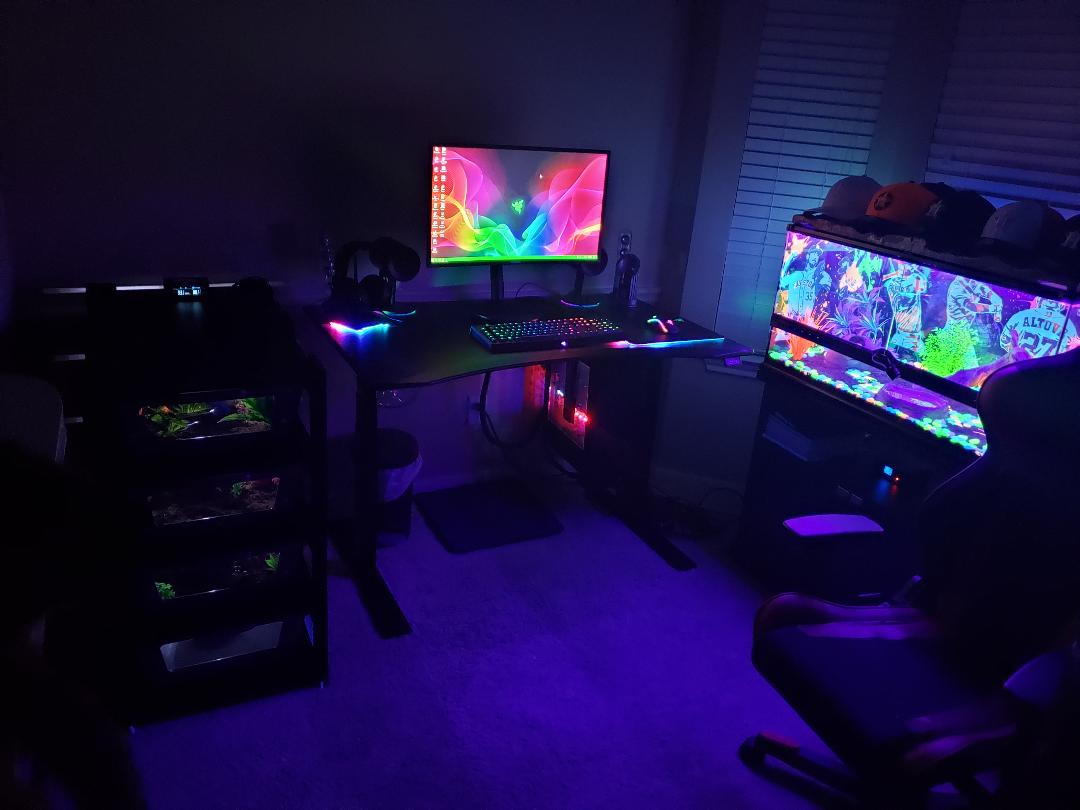 Some amazing stuff here LOVE those aboreal lizard enclosures with the stone doorway and the bridge across absolutely class!
I have been wondering how to decorate tubes, when its time. Thanks for an idea !!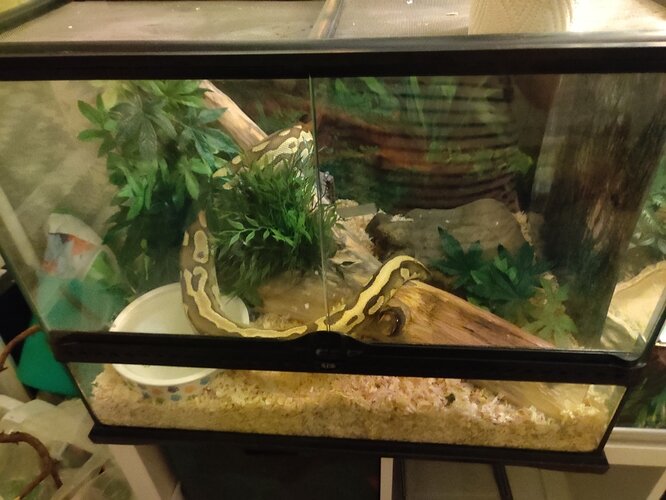 This is our new arrivals exoterra.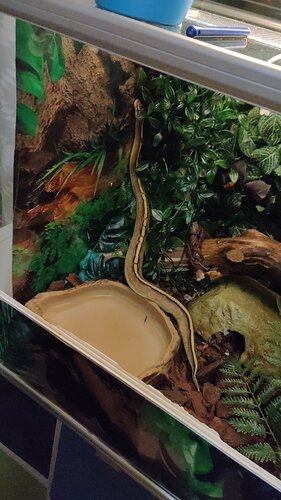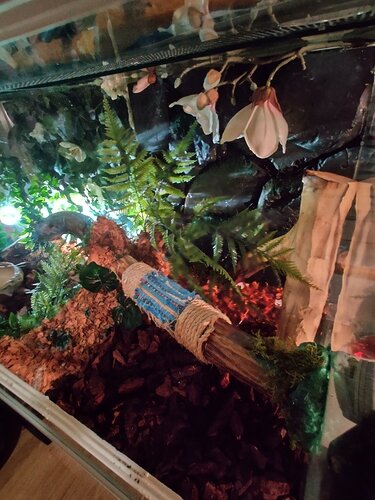 And here is 1 tank that is split half for two balls.
My Idea is to keep my breeding adults in tanks and babys in rack.
Keep them coming everyone loves a habitat
Bumping this with a Pic of my black king snake's new upgraded 40 gallon. He was in something close to a 10 but he's gotten so much bigger I wanted something he could do all sorts of behaviors in. I only wish I could get my hands on a backdrop or make one.

You might want to check out Universal Rock. They are not cheap but they are really nice!
Thanks! I'll check it out. Probably will get one for his final tank in a few years