So, this thread was something I wasn't sure I would ever actually get to make. The breeder took forever to get her to me, and at one point I wasn't even sure I would actually get her. When I got her on the 27th of May it was also obvious that she has an RI. I took her to the vet and already have her started on some antibiotics. She is still eating so I believe she will be quick to recover.
Despite the trouble I have had to go through, I am glad I did get her. She is one of the most curious/fearless snakes I have ever encountered, and will slither up to me when I get near her cage just to see what is going on. She is one of the prettiest albinos I have seen as well. I never really liked albino snakes all that much until I seen this girl, as most (especially albino BPs) are mainly yellow and kinda plain IMO. She is (from the research I have done) completely unique and there isn't anything close to her online anywhere. Sometime in the future I hope to find a male to pair her with, but if I don't I am happy to just have her as a pet.
She is around 5'6" (167cm) long and weighs 945 grams. I named her Polaris and she is 5-6 years old. Here she is in all her glory;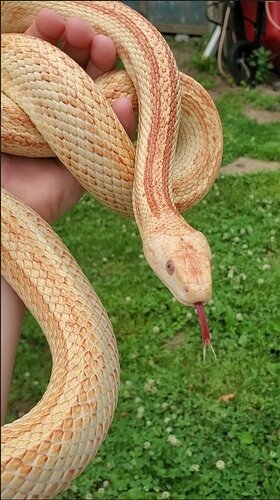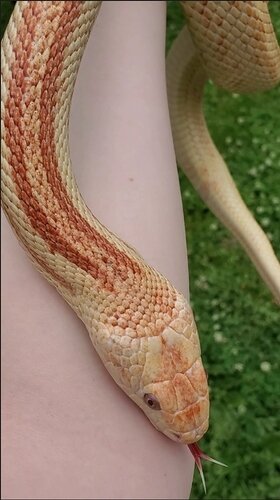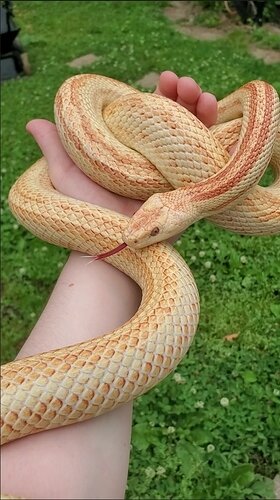 The stripe is visible down the whole length of her body, but just fades from having all that red in it and gives her a lovely contrast. I also like that the tips of her tongue are white. Guess they would have been black were she not an albino.
I will likely update this as she gets better/whenever I can get a full body pic.