@mattcookreptiles do you think the VPI sunglows hold color better/brighter with age versus kahl/sharp sunglows?
I know you didn't ask me, but I'm making a case for the potential brightness of Burke Sunglows as opposed to the others. These guys only gain color as they age. The animal in the photo is an adult.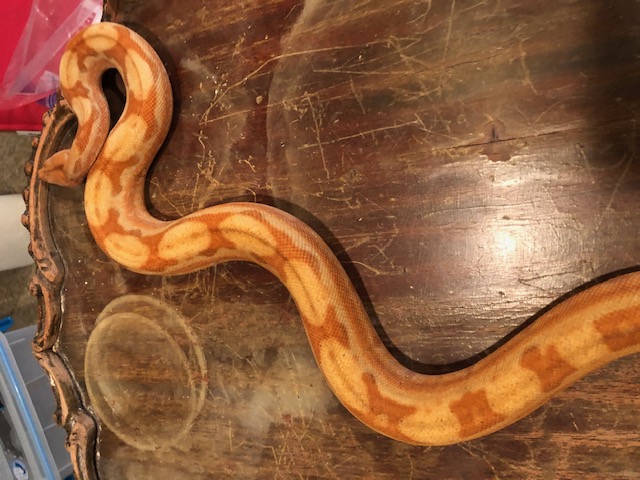 FRIEND SHAPED!!!
Thank you I'll take 50
This is a "Calliope", a true Red-Tail that I don't show off that often, because she is the least colorful one that I have. However, she is still very valuable to my breeding program because she is my only female Parson Ladder Tail, and I need her if I am going to produce a Candy Cane. My plan is to breed her first to my normal high-color Guyana, "Narcissus," with the goal of producing a high-color female Parson Ladder Tail, one that I can hold back for future breeding. Eventually, I hope to breed Calliope to "Narcissus 2.0," a younger male that has both color and the Parson Ladder Tail gene. He won't be ready until 2024 at the earliest. I do feel that, even though Calliope does not have color, she pattern is very good, a really nice example of a Parson Ladder Tail pattern, with full peaks and fully connected saddles. She also has an unusual white lateral line that I hope will be passed on to her offspring.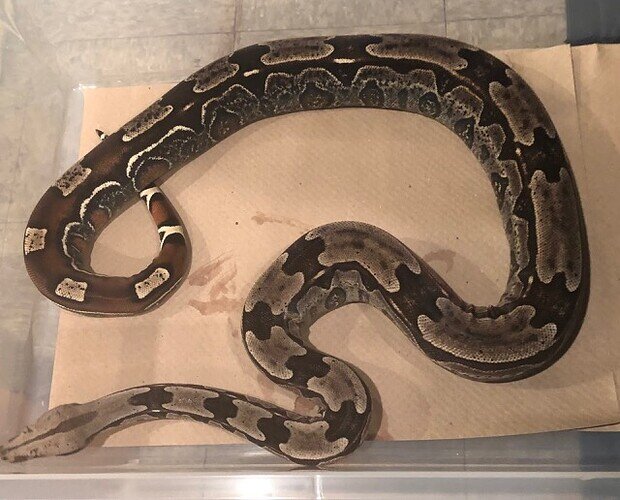 I certainly do! I have two of them in my collection and I'm hoping to either buy or make a third one.
Lattertails are some of the best things!
Is that an incomplete dominant trait?
Parson's Ladder tail x normal = half Ladder Tails/half normals?
Yes, exactly. The super form is really extreme and is called a Candy Cane. Only a handful of them have ever been produced. Unless I acquire a new snake that gets me closer, I'm still 2 or more years away from producing the Candy Cane.
Looking forward to that day my friend
@westridge
Just awesome!
I thought I remembered that morph from way back. That is a solid project.
A pure Guyana morph. Don't get me started on the albino Surinames…
I did NOT know about the Candy Cane!
I can't imagine.
Got any pics?
@dsed You and us both, my friend.
I don't own a Candy Cane, so I don't have pics but I know Candy Cane pics are available of Mike Eckert's FB page. All of my Guyanas were produced by him, including the Parson Ladder Tails.
I have been curious about the Albino Suriname. I know there are questions about their purity. I'd love for you to share what you know on the subject. If it wouldn't be appropriate for this thread (like if it involves saying negative things about others), please feel free to DM me.
Thank you!
Oh no:
Nothing negative, more of a "don't get me started on how beautiful they are and how much I wish someone would breed them!"


I know there was at least one or two imported back in the late 90s or so, but nothing ever came of them. There were not many people who could breed bcc back then.
I'm excited because it looks like another 2 or 3 albino Suris were just imported and sold. With so many good bcc breeders around here these days, I think they'll get successfully bred.
That plus the ease of importation from Surinam and Guyana means I'll bet we'll have a bunch of pure bcc morphs soon.
They're currently for sale publicly. $15k a piece.

yep that sounds about right
How many are you gonna get?



Put us down for zero.
None right now but I am currently looking at a sunglow Sterling, motley anery IMG, and a ghost Sterling (all females). I will probably end up with two of the three but I can't pick lol