The king of pieds has arrived!
This thread is getting me so hyped! 2 of my het pied females have shot past 1,000 grams so it's time to start shopping around for my pied male.
I'm going to be that dude and say the obvious one… Lavender Albino X Piebald… The Dreamsicle.
Here's @chrisburnsreptiles clutch from Dreamsicle Clutch

This is @martin_ender Leopard Ivory het piebald: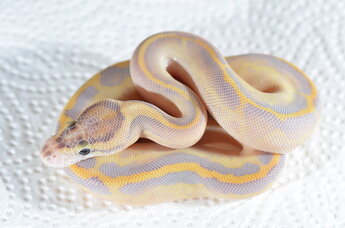 From
Here
I really can't wait to see what this looks like pied.
I can't even find a lavender albino for sale, the ones I seen have spider in it…ugh lol
That little guy is ridiculous. I can't wait to see that in pied as well

Same problem here!!

Crossing my fingers someone has some hatchlings soon and there will be some available later in the year.
Special Fire het Pied

Axanthic Leopard het Pied going through the motions. Should see an ovulation in a week or so.

Redstripe het Pied x Pastave Pied

A small sample…
Momma is an absolute beauty! What kind of Axanthic is she?
One great pied combo is black pastel they are so beautiful and dark. Another pied combo I would by into is a orange dream yellow belly enchi het pied to something like a gene x orange dream pied
If you're concerned about market value/ demand and overall profit, then I'd recommend staying away from banana pieds.
I'd recommend building your breeding your breeding stock around double and triple recessive combos.
As far as pieds go, I would recommend VPI Lightening Pieds, Clown Pieds, Lavender Pieds, Ultramel Pieds and their combinations.
I'd recommend building an army female hets in some form or another, look for females like "Visual Lavender 100% het pied 66% het clown" for example, that are visual for one recessive gene, and het for others.
With females like these you purchase many females boosting your total yearly egg count and overall chances of success.
Eventually you will hatch hold back males, once you've hatched a visual triple recessive hold back male, your odds raise exponentially, and the value of your snakes will increase as all of the non-visual aspects of the offspring will be 100% het, instead of 66% het, making reliable investment opportunities for others.
Even if that male produces a "normal" that normal will still be a 100% triple het, making for an excellent investment animal.
I've seen this one posted on another chat before, I think they called it the lighting pied
Pieds rock, and my best advice is to make what you want. If you think its cool somebody else will too. From a market perspective, regular old base pieds sell like hotcakes at shows. They aren't pricey but I always wish I had a couple more in the display! As mentioned, double and triple and quad recessives are becoming the cutting edge but there is also a lot of room for super and allelic combos - Super Orange Dreams, Highways, Freeways, etc. Honestly though, pick something and go, get your feet wet. You can always pivot later, but the experience just breeding, incubating and hatching is invaluable.