A lot more than I should

I'm always looking for that next gene that I don't have in my collection.
Trust me it has happened to me far too many times!
I daydream a lot on the MorphMarket boa page, lol. I get that feeling of if I don't get that boa now there will never be another good deal! A justification of spending money I shouldn't, lol. I don't do any other social media so MorphMarket gets all my screen time.
Honestly a few times a day. I have several saved is like to get when i have the money. I check every morning to see if they're still available lol
Another reason I'll check MorphMarket is to see what the general asking prices are for a specific snake/morph/morph combo before purchasing it at a show, just to make sure I'm getting a good deal.
Still happy that I managed to snag a pastel clown female for just $350 when the clown craze was starting back up again… she's almost pushing 700 grams now — I went to a show today and saw a little baby pastel clown female listed for $500!
I often flick between the market and forum.
Its surprising and also not in a way, how many people said this is there only social media.
Its my only social media too. I guess other social media can be a bit toxic sometimes.
Besides what more do you need?
I agree. We used to really post a lot on saltwater forums but toxicity is an unfortunate side effect with different opinions. I really like it here and I've been into snakes since I can remember so it never gets old.
Way too often, because I have nothing better to do.

I probably open the Community pages once or twice a day. Morning and evening? I am not really interested in some of the most popular critters here, so I can get through the new posting that do interest me in just a few minutes, usually. Beyond that, I do like to check out all your pictures!
As to the MM "shopping " section, I probably only troll it two or three times a week. I think the morphs are all terribly interesting, but I would only want the "natural" animals for my albeit meager collection. There are a few species I dream about, but stars need to align before I can pull the trigger right now!
Like others, this is the only social media I follow right now. So, thank you all for keeping it active!
Me too. but in a different way. e.g I keep checking clown combos and a few others at the moment. they were silly prices. I am waiting for the price to come down before buying, and they are bit by bit.
enough hatchlings this season should bring them down to a reasonable price for me.
Clown prices just skyrocketed, that's for sure. I'm happy with my pair I'm raising up, especially my female since I got her for a sweet $350 at an expo when the asking prices on MorphMarket were that much or more for just a normal female clown! I wasn't gonna pass her up!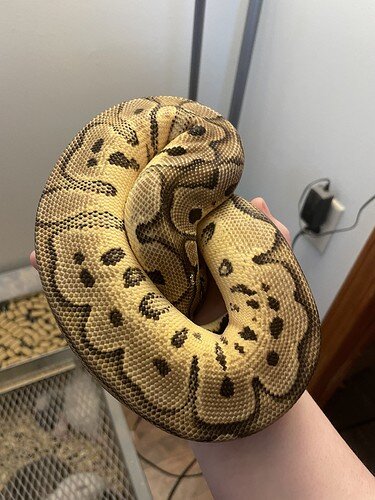 She actually just shed today and is looking great, almost 700 grams now. Great eater and fast grower.
@trnreptiles I accept that, yes they get cheaper the less rare they become, but also more expensive the more popular they become.
They do seem to be coming down in the UK this year though.
Rock and a hard place as to when to buy I guess.
A morph gets down to a reasonable price range, then more people go for it pushing up the price,
Supply and demand. sigh.
Edit: awesome snake you have by the way. I love some of the alien head faces on some clowns.
I have to pay my business tax by 31 January. So I am currently self banned from the market.
But no promises