Content warning - the surgery video is graphic so avoid playing it if you are squeamish
I was personally going to go with more of a viral transduction gene editing route, which is less precise, but would allow me to inject virus into the developing embryo/eggs and avoid the whole surgery route. If it works on mouse brains, it seem feasible it could work on snake embryos provided I have the right promoter
I think the first hurdle is getting the funding project started…?
It's at least nicer sounding than "Let's bribe @t_h_wyman !"
I would suspect that, given their size, you could probably guide the CRISPR injection into ball ovaries using an ultrasound and forego the surgery
.
.
.
The bribe required to outweigh the punishment for 'misappropriation of government funds' is going to be a lot higher than you might think LOL
Thank you @t_h_wyman. I think things like this are really cool, genetics have always fascinated me to no end. I think that I have said this before but I knew of you before I knew you lol. It was a wonderful realization when I found out that you were a mod on here, I was stoked

.
Or, we all pitch in to buy you a laboratory: P
The only member i knew of before joining was @creaturesofnightshade due to how much exposure her work for trying to stabilize a captive bred pop of dragon snakes has gotten (as well as working out proper husbandry)
*Another laboratory.
I'm sure he already has one, but the abominations within are not for our eyes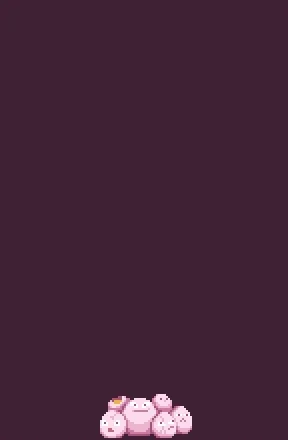 Oh perfect. Anyone have a gravid female and an ultrasound they're not using? I've got the virus with GFP…… Let's make some glo-snakes
You joke about the ultrasound machine, and im here contemplating asking for suggestions so i can easily see follicles and not pair females that dont have folicles yet, or are too far along xD
I wish … Hahah. That would be a neat experiment to be in on!
Establishing transgenesis or gene editing methods in animals usually requires a lot of trial and error. I suspect you would have to perform trial runs on many ball pythons before generating offspring that carry GFP (or your favorite fluorescent protein) and express it strongly enough to glow strongly under UV.
This approach (injection of virus into eggs to transfect embryos) has actually been performed in ball pythons. With existing viral vectors, this approach is unlikely to transform more than a handful of cells in the embryo with essentially no chance of being transmitted to subsequent generations. Check out this patent from 2006:
I would not object to my own personal laboratory…


.
.
.
Not sure I can call my work labs "mine"… But, yeah, kinda



.
.
.
This approach has a looooooooooooong history of being quite effective across countless model organisms (that is how we got pretty much every transgenic animal in use). Yeah, you may only get a handful of transformed cells, but at the end of the day it only takes one or two at the right time in the right place to succeed
Good thing I'm well versed in the making of both transgenic and fluorescent models.
While I couldn't find a picture of my GMR > GFP flies or the fluorescent mouse brains (they have YFP instead of GFP due to my AAV vector of choice, but same concept) on this computer, please enoy this picture of my beautiful GFP+ neurons (differentiated human and primary mouse)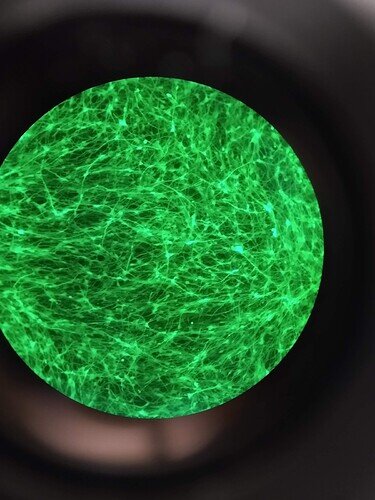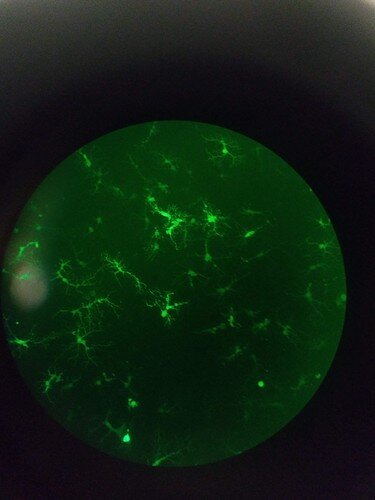 As you can see, viral transduction is VERY effective at expressing GFP. While certainly it would take some optimizing, as long as it was embedded in the germline you can make a stable line from there
The best comparison is with other amniotes. The viral transgenesis approach works well on very early stage mammalian and avian embryos, but it is not an effective way create transgenic strains from later stage embryos. Injection of viral vectors underneath the membrane that surrounds the ovary is a more reasonable approach. Injection of a viral vector into a freshly laid ball python egg is extremely unlikely to transform germ cells.
Transfection of reptilian germ cells within an embryo while still in the egg is a very different proposition than localized transfection of brain cells or transfection of neurons in cell culture.
Oh I would never reccomend transfection, lord knows what lipofectamine or electroporation would do to a developing embryo. Transduction on the other hand is a great tool to stably integrate a transgene in a less invasive way. Injection of AAV into P0 mouse brains results in widespread integration and expression for the life of the animal, so it very feasibly could be used in a developing reptile embryo. Not just injecting into the amniotic fluid of the egg, but rather into the embryo itself. Even if efficiency is less than 10%, all you have to do is get it into the germline. Mouse models are made all of the time by generating a chimera with ES cells and hoping you get the desired genetics in germ cells.
Viral transfection = viral transduction. By transfection, I am just referring to the process of getting DNA into a cell.
How many ball python eggs would you need to inject to hit the embryo without killing it AND transforming enough germ cells such that you could breed it and get germline transmission? Probably a lot. And you would need to wait for each snake to reach maturity before testing for the ability of the animal to transmit. Possible? Absolutely. But feasible with a few eggs? Probably not.
Mouse ES cell based technology and chimeras are a completely different story.