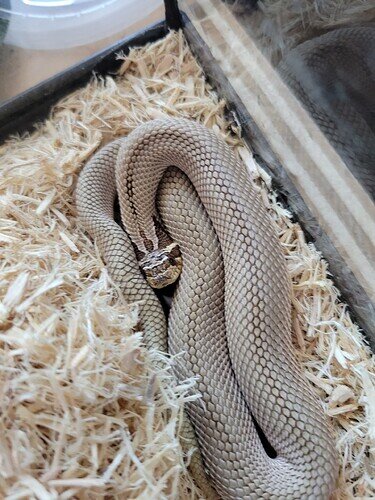 Hey yall! I've been around for a while but don't think I've ever posted an intro. I'm Julia, and I've kept reptiles recently for the last 2 years. I took a break for a decade or so before venturing back into the reptile world. Previously had king and corns. Now I have a beardie, ball, hognoses, cresties, gargs, leopard geckos and an AFT. I also keep a handful of arachnids. Aside from the reptiles, we also have 4 cats and a horse. I grew up loving animals, ALL animals. And that hasn't changed as an adult.
Most of my reptiles are simply pets and I keep them because I enjoy them, but I absolutely am obsessed with my hognoses and I do plan on breeding them. I have 7 right now, 6 of which are juveniles so I'm playing the waiting game. The pic above is of my yearling superconda het snow, Brenton. Hell eventually be paired to my axanthic het albino female avalon for some snow babies (hopefully, of the odds gods are in my favor). I've got two albino condas, three other normals with various hets, and an arctic. I've planned out five years of breeding and I am sonstoked to get started. I've made some pretty awesome friends because of these guys, and hopefully now that I'm in here I'll make more.
Anyway, nice to meetcha! And I look forward to talking sneks with everyone.