Thread to update on eggs/hatchlings this year. As of right now, there are two clutches in incubation.
Pineapple x Chipmunk

Laid 4/29
Pineapple: Snow Het Palmetto, pos unknown hets
Chipmunk: Ghost Motley-Stripe, Het Amel/Charcoal/Diffused/Lavender, pos het Cinder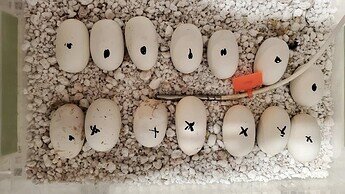 .
.
.
Azula x Cuddles*

Laid 5/6
Azula: Anery Tessera
Cuddles: Ghost

*Azula was also paired with Chipmunk for a short time.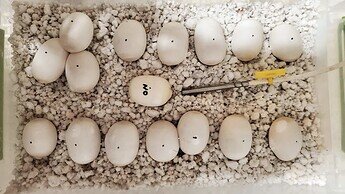 .
.
.
One of Azula's eggs seems to want to take after Leaky's example, noticed a dewdrop on it: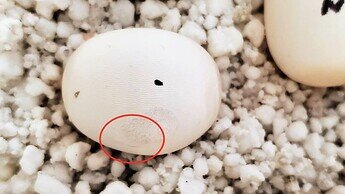 This one isn't quite halfway through incubation, so we'll see how it goes. I think the dew is caused to the permeability of the shell in that area. It's where another egg had been attached, so it's not a "true" leak as there's no breach of the shell itself.
I'll probably add updates on my '22 remaining hatchlings and holdbacks a bit later, too. For anyone who remembers my problem feeder Sneaky, he's still hanging in there somehow!