Oh you better believe I will post pics! That's a given!


I really adore housies. My girl is throwing me for a loop - I thought she was gravid a few months back but now I think she was just building, so I paired her, and now when I palpate I do actually feel what feels like distinct eggs but she's still doing her thing, no eggs so far

She did just go into shed and refuse food though, so we'll see
Ohh she's such a pretty one to be so tricksy! Crossing my fingers she was building and you're going to end up with a clutch or two from her. What did you pair her with?
Also, I love that you love housies too. <3 I always love seeing you pop up in the BP category, we're lucky to have you here too!
Aww, you're very sweet! Thanks so much!

Friend of mine got me into housies a couple of years ago and I absolutely adore them, they're such underrated snakes! I have a 1.2 trio of KZN red T- albino, so that's what all of the babies will be if I get some. I've been interested in getting another with some different genes (hypo maybe, or granite type) but I'm a full time graduate student with limited space, so waiting until I'm better equipped!
Ohh KZN reds are so gorgeous, albino or no, good picks.
I know what you mean – I've been sitting and sighing and staring with heart-eyes at some of the hybinos on MorphMarket (Laurelborn Serpentry has some really pretty ones). I bet a KZN hypo or hybino would be insanely lovely and subtle.
Laurelborn is amazing and has some awesome stuff. I asked her sometime last year if she would ship and she prefers local sales (totally understandable) but I think she may be more open to shipping now so when I have the space and money, I really hope to get one from her!
I love the adorable, tiny beauty of itty bitty snakes, I'm just so nervous about actually working with them.

I'm also a small person in a small home (with a modest budget), so practically speaking, the true giants are off the table for me too (at least for now). But that's why I love short tailed pythons: you get the girth of a 20-foot retic in a very manageable (5-ish ft) length.

My next snake is going to be a boa, which is, realistically, probably the largest snake I can accommodate right now. And then I'll be out of space for big enclosures and will have to get serious about finding the perfect house snake, because that's all I'll have space for.

She's beautiful!! Fingers crossed she gives you some good eggs!

Small update on Chester the tiny baby: she had her first meal with us!! I thought she wasn't going to because I spooked her while opening her enclosure and she bolted into a hide, but I left the pinky right outside and by morning, it was gone. Good job, little lady.
Now time to wait for the poop.
Pic tax, from a paper towel change the day before. She was curled up all cute of course until the moment I grabbed my phone, so all I got was this shot of her mid-bolt.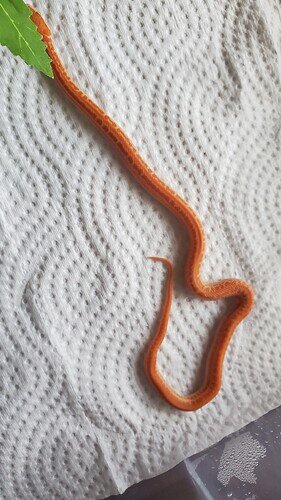 It sounds like she is going to be a great little eater! My Apricot bolts too but being so tiny they have that tendency. When Cheeto Chester gets a little older and adds some size she should settle down. Wait until she strikes and curls!


So cute!
Good story from this corner: I got Sangfroid (B. fuliginosus) out and he was just instantly cool with it once he realized he was being handled, super cute and curious and even let my little niece hold him, well supervised. She loves my snakes.
He just never ceases to amaze me with how relaxed he is and how inquisitive. And he's gotten so much bigger once he's started eating regularly. I'd need to do more to measure his length but it's definitely time to weigh that boy again. He was last 18g but that was ages ago.
That's so awesome! I'm glad he's finally eating better now, I know he was awfully picky for a while.
There really is nothing else like getting to interact with an inquisitive, non-fearful, personable snake. Especially when it's a snake you've raised up from a baby yourself. It's such a profound privilege to be able to build that sort of relationship with these animals. And I love that your niece loves your snakes!

Amen to that Jennifer! I don't care what anyone says, I think that snakes, especially when you acquire them as babies, know their keepers/care givers. I think they can sense the the difference when someone else holds them. But that's just me!

Amen again! You've said it so very well, @jawramik.
I'm so glad that Chester, Sangfroid, and Apricot are doing well. Hopefully there will be some more cute house snakes from @inspirationexotics soon.
Oh, I agree, and I don't think that's anthropomorphizing them at all. At the very least, we all look and smell different, and I'd expect an animal with decent vision and a highly developed sense of smell to be able to pick up on those differences. There's probably a tactile difference between people that they can feel too, I'd imagine.
Thanks everybody!
I agree they recognize us and know who is familiar and safe. Trust is a precious thing from a creature as thick as your thumb.
He might not get too much bigger, but we shall see. Feeding night is tomorrow and he's been getting so enthusiastic about his food now that he knows what it means when a mousey thing pokes into that one specific tunnel.
That is so fantastic to hear! You have certainly hung in there with a tedious process! Your efforts have been rewarded with a happy healthy hungry house noodle!

That's so well stated. I love when tiny creatures learn to trust me, and other humans. In my case I am talking about baby corns, but they are small. It's very humbling and very joyful. And deeply satisfying.
How wonderful! You have certainly fought the good fight with Sangfroid. It's terrific that he's finally fully on board with the program!
I'm a pretty new keeper and we're just building up our bond here with our first snake, a BP. It is incredibly rewarding to have them learn that you're not a threat, that you might even be something to be curious about… I'm so excited to build that bond with Chester, too.
Excited to hear about Sangfroid's progress, too! He seems like such an incredible little guy.